September 27, 1975, I pulled out my company two-way radio and announced the arrival of Matthew Louis Steinhoff. The next stop was to apply a bumper sticker I had custom made.
Newspaper announcement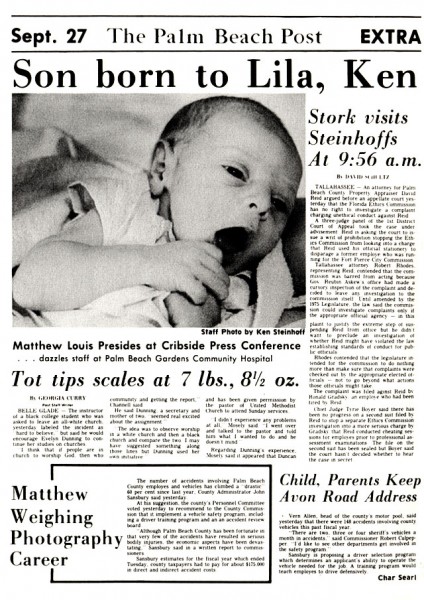 In keeping with the newspaper theme, a couple of the gals in the Art Department put together this front page mockup. (Don't try to read the stories. They pulled random real copy out of the paper to fill the space.)
Time flies when you're having family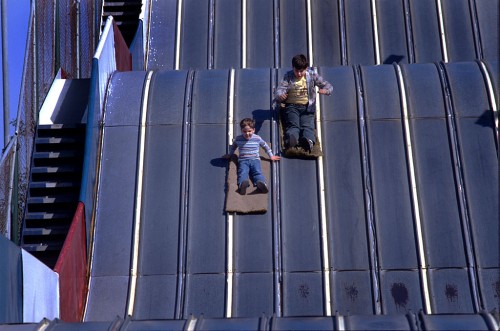 The photo gallery will show how quickly time passes. We survived swim meets (he was Rookie of the Year when he was five); photo contests, Scouts, high school and his move to Orlando to work for The Orlando Sentinel (and his move back to Palm Beach Gardens). Along the way, he met and married Sarah, one of the two best daughter-in-laws any parents could hope for. (Son Adam snagged Carly, the other keeper).
Matt and Sarah have their own Tiger Scout now, seven-year-old Malcolm, and Adam and Carly have started their family with Graham, who was born in February.
How do you pick through 36 years of photos?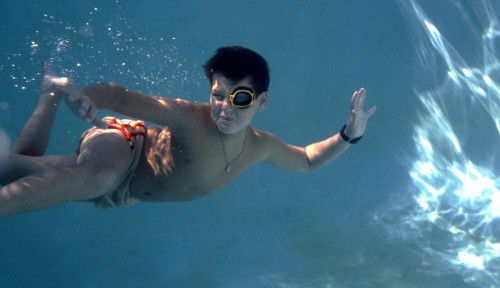 Wife Lila looked at my photo picks and kept saying, "You missed that one. You have one with your Dad, but not your Mother. You left out …. How about….?"
My only answer was, "This ain't his last birthday." Scores of photos come to mind, but I went with some new ones I discovered this week going through old slide trays. Mixed in are some oldies that are favorites (or, to be honest, were easy for me to find.)
Wish Matt a Happy Birthday
Here's a quick overview of Matthew Louis Steinhoff. Click on any photo to make it larger, then click on the left or right side to move through the gallery. Don't worry. We'll add to the collection next BDay. I'll be sure to have one of Mother in that batch.