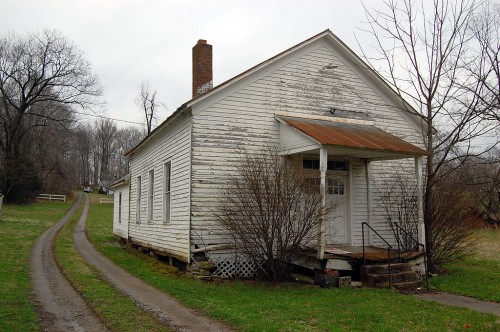 On the way back from shooting Dutchtown's Beechwood Club, I stopped to take some photos of a tiny little white building on the north side of Highway 74, just east of Dutchtown. I was pretty sure it had been a school.
While researching something else, I saw a story about the 50th Anniversary of the Pecan Grove School in 1951. There was a photo that matched up with this one. Bingo.
Pecan Grove had as many as 60 students
A Missourian story from Oct. 29, 1930, said there were 25 pupils enrolled in the school. Eleven of them have had perfect attendence this term.
The 50th Anniversary story said the school was founded in 1901 and had operated in the same building for 50 years. By 1951, the school had an average of 16 pupils. At the turn of the century, as many as 60 students were taught in the one-room, 30 by 30-foot wooden building. Grades one through eight were taught there.
Otto E. Eggimann, the oldest living teacher, said he gave the school the name Pecan Grove School. It had originally been called the "Little Yellow Schoolhouse."
Annexed into Cape Schools in 1970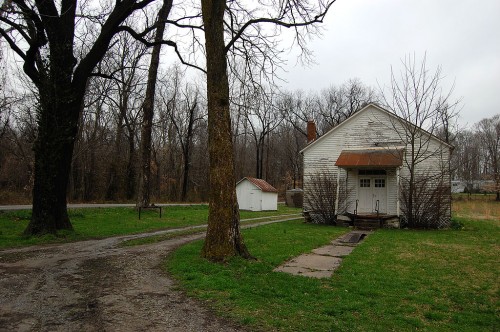 A June 15, 1970, story said that Pecan Grove School had been annexed into the Cape Girardeau School District. In September of that year, the school district issued a quit claim deed to Ferd Peetz, giving him the one-acre site of the former Pecan Grove School.
Lou Muegge and the pecan tree
The Missourian reported on Nov. 24, 1943, that Coach Lou Muegge and several of his Central High grid players spent Sunday afternoon on an outing near Pecan Grove School and, of course, a football was taken along with them. The boys took turns at throwing the football in the pecan tree and kocking down pecans, while they also ran through cornfields as a form of limbering up exercise. Jack Baynham, Leon Brinkopf and Herbert Upton were the members of the squad on the trip.