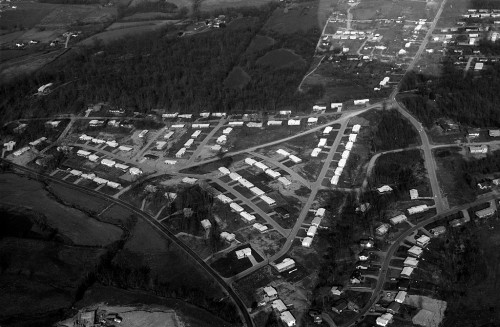 This isn't the story I had planned to file today. I was working on an interview with someone I photographed back in March when the Weather Channel intervened.
When I was looking at our pool deck last weekend, I notice that some of the bolts holding our screen enclosure to the concrete pad had started failing. A bunch of them broke off during the 2004 hurricanes, and I replaced them before the 2005 season hit. Unfortunately, they, too had rusted and popped off since then.
When I went to bed last night, there was a 70% chance that we might see Bonnie headed our way. I needed to replace the failing hardware.
The Rule of Threes
I decided to replace them with stainless steel Tapcons and washers this time. Ouch. That stuff's not cheap. Of course, then I had to go out and buy a new hammer drill to install them. The first one I picked up was missing a part. That meant a trip to the store to replace it. Mid-way through the project, I snapped off a drill bit. That meant another trip to the hardware store.
I developed a Rule of Threes for home repair projects: Every project takes three times as long as anticipated; costs three times as much as budgeted and requires at least three trips to three different hardware stores for every item needed.
This is a long, weather-related version of  "the dog ate my homework" to explain why you're seeing these mystery photos instead of the interview.
Aerial photo of subdivision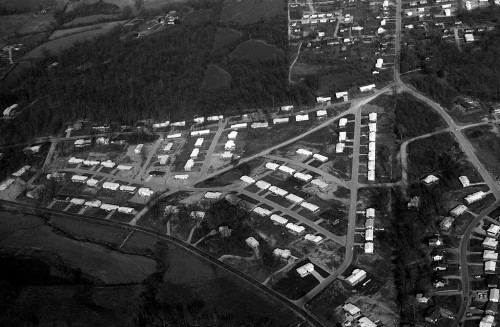 Just so you won't disappointed that there's nothing new up, I decided to post these aerial photos of a unidentified housing development. Here's a slightly different angle of the area. There's a small creek running down the left lower portion of the photo, but I don't recognize any of the roads. There are no big buildings or water towers to help, either. The only info I have is that the pictures were taken April 14, 1964.
Bonus round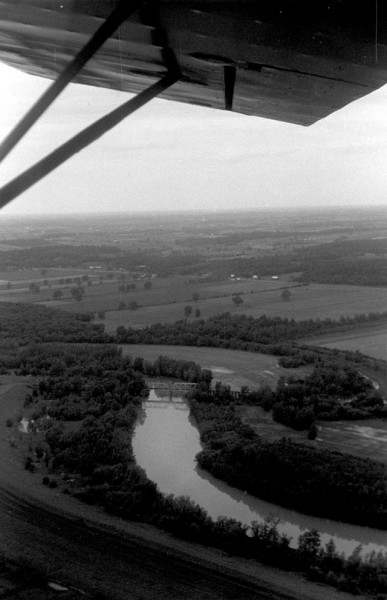 If figuring out where those photos were taken was too easy, here's a bonus question. For some reason or another, I tagged this aerial as being 'aerial of stream', maybe near Dutchtown. (That was when I scanned the photo, not when it was taken.)
There's a bridge in the middle of the photo crossing the stream, but I can't tell if it's a car or a railroad bridge. It's possible it's the old bridge over the Diversion Channel near Blomeyer.
What's happening with the storm?
The good news is that by spending the day in the hot sun drilling holes and filling them with bolts, I chased the storm away. Had I not done that prep work it would have strengthened overnight and parked itself over my house as a Cat 3. (Let's hope I don't jinx myself by saying that.)