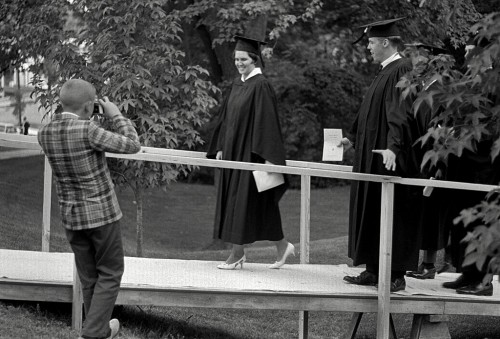 I see that Saturday was SEMO's graduation day. The Missourian's reported that Dr. Fred Janzow, vice provost and dean of the School of Graduate Studies, delivered the commencement address to the 1,129 students receiving degrees. Dr. Janzow will retire in June after 35 years at Southeast, where he began his career as a biology teacher.
Dr. Janzow, The Missourian said, told the audience "Change is inevitable, unexpected and unpredictable. It creates new possibilities for our own life. You have been well prepared by the faculty and staff here to take advantage of these possibilities."
Dr. Charles J. McClain spoke in 1967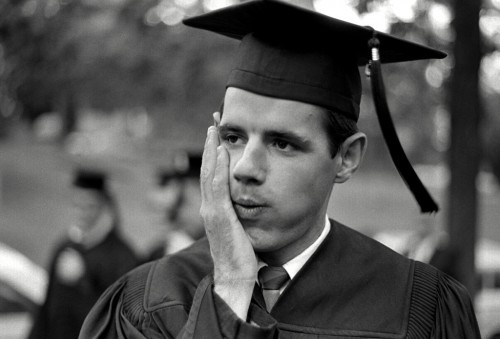 Dr. Charles J. McClain, president of Hillboro's Jefferson Junior College, addressed the 204 State College students and a crowd of about 1,300 at the October 1967 graduation.
One of the students was Andrew B. McLean, above, a fellow who would be my best man two years later. We met while working on The Capaha Arrow and The Sagamore. I don't recall if he was much of a student, but he had memorized every Bill Cosby album ever made and could do Bill Cosby better than Bill Cosby.
He was NOT invited to do any of his routines as part of the commencement exercises.
A student must know his instructor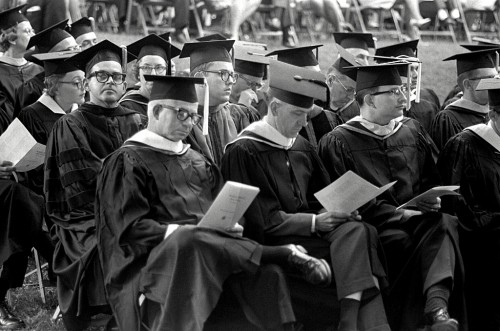 Dr. McClain made some interesting points. He said that excellence in education can only be maintained when a student knows his instructor: "A common [approach] is to group students together and attempt to stuff their minds as if they were a gut. I categorically reject this is sound educational practice."
I don't know your names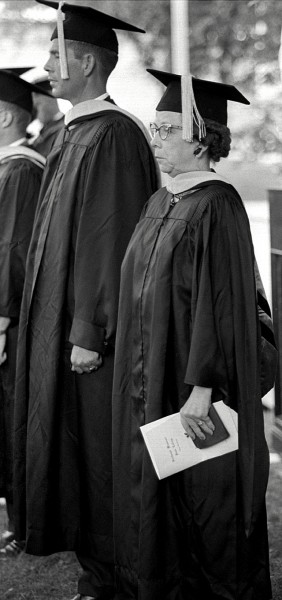 College today cannot afford to have instructors who stand before a class and say, "I don't know your names now. I won't know them at the end of the semester. And, furthermore, I don't want to know them," he warned.
Colleges face challenges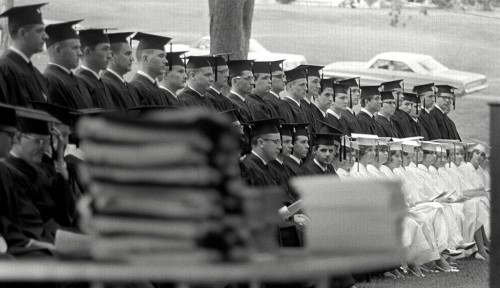 Looking, accurately, into his crystal ball, he said that each American faces the stark reality of re-eduction three or four times during his working years because of rapid changes. "To produce leaders and other highly trained persons to carry forward our civilization, higher education, once considered a privilege of the elite, now becomes a necessity for all."
Look to your left, look to your right
Dr. McClain said that he couldn't think of a worse statement to make during freshman orientation than, "Look to your left, look to your right. By next semester, one of you will be missing."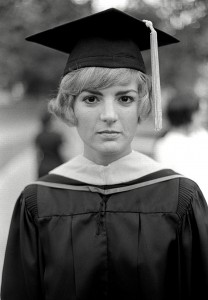 I found this to be perfectly ironic, because that's exactly what we freshman were told while we were sitting in Houck Stadium for our orientation.
"Perhaps our approach to education is wrong," he continued. "Contrast this to one used by the Army, where every effort is made to make each individual a good soldier."
Educators, he said, must devote more time to students and the learning process rather than mere accumulation of knowledge. "No one would argue railroad owners once knew how to run a railroad. However, if these owners had been thinkers and sensitive to change, they would now own the airlines."
Dr. Scully's advice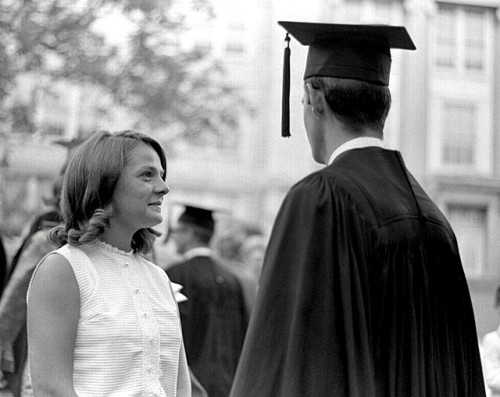 Dr. Mark F. Scully, State College president, told the graduates, "The reputation of the college now rests with you." He said in fulfilling this responsibility the first thing graduates can do is "go out and do a good job. You've been well trained." The second thing is to influence other young men and women to attend State College, he added.
The cute girl congratulating Andy McLean is Lila Perry, who would become Lila Steinhoff in 1969. (I'd tell you the date, but I never can remember it.)