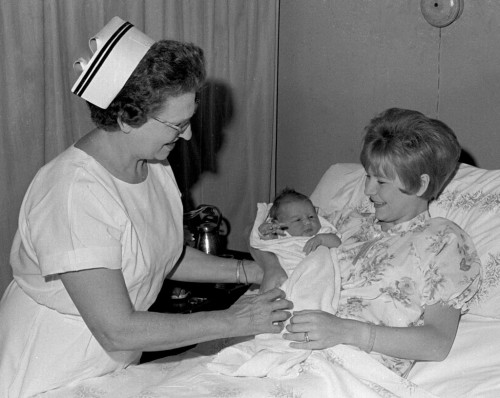 The photo caption in The Missourian June 21, 1966, read, "Their First, Ward's Last. In these record-conscious days when everyone's attention is focused on superlatives, it was perhaps ironic that St. Francis Hospital here was the scene of a first and a last this week. Sandra Louise, the first child of Mr. and Mrs. Larry Essner, was born – appropriately enough – on Father's Day, Sunday, just in time to be the last baby to be born in the hospital's maternity ward before it closed Monday night at midnight. Mr. and Mrs. Essner live at 1409 Bloomfield.
Mother "thrilled" to beat deadline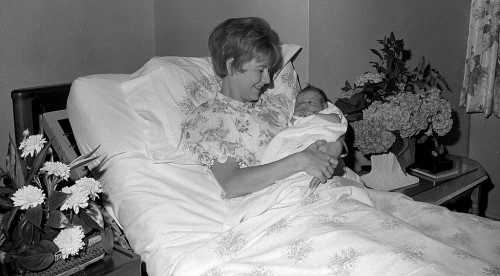 Paraphrased from the story: Mrs. Essner, mother of the last child to be born in the maternity ward at the present St. Francis Hospital, said today that she was "thrilled" to make it to the hospital before the deadline. She gave birth to the 7-pound, 14-ounce girl on Father's Day Sunday. She and her husband chose the name Sandra Lee for the child. [Editor's note: I don't know why the caption has the baby's name as Sandra Louise, but the story says it is Sandra Lee.]
The maternity ward closed for admission Monday until the opening of the new hospital on Gordonville road. When Mrs. Essner is released, the section will be converted to use for intensive care and recovery.
Mrs. Essner is the daughter of Mr. and Mrs. Virgil Hopkins of Scott City. Her father is employed by the Marquette Cement Mfg. Co.
Mr. Essner is a teller at the First National Bank, 100 North Main. He has worked there for about 2-1/2 years. His family is from Chaffee.
St. Francis Hospital room number

Just before the old hospital was torn down, Son Matt and I took an "unofficial" tour of the place. Mother couldn't remember what room number she was in when I was born, but based on her description of what she could see out the window, it's possible that I was able to score the door tag.
The Herring Hall Marvin Safe Co. sign was from the West Palm Beach bank Wife Lila worked at when we first moved to Florida. The newspaper bought the building so we could expand our offices. Just before it was bulldozed, I snagged this sign off the bank vault.