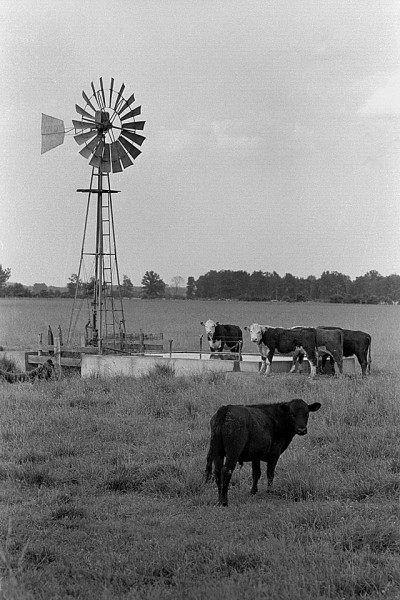 The negative sleeve doesn't contain much info: Allen Henderson Windmill 6/6/67.
I scrolled through all of the June 1967 Missourians, thinking that I might have shot it for the Agriculture page, but it didn't show up. It's odd that I would have gone to the trouble of putting a name on the photo if it wasn't going to run.
Was it the Allen Henderson Farm in Delta?
Here's a September 6, 2006, obituary for Mr. Henderson. I'm guessing that the photo was taken on his farm.
Charles Allen Henderson, 86, of Delta passed away Monday, Sept. 4, 2006, at Missouri Veterans Home in Cape Girardeau.

He was born March 25, 1920, in Jackson, son of Weston and Lena Goodwin Henderson. He and Ann Felker were married Dec. 24, 1950, in Jackson. She passed away Sept. 14, 2004.
Allen graduated from Delta High School in 1938 and attended Southeast Missouri State University. He was inducted into the U.S. Army April 4, 1942, and was honorably discharged Oct. 9, 1945, as a staff sergeant.
In 2005 he received a 45-year pin from the Altenthal-Joerns American Legion Post 158 in Jackson. Allen lived and farmed at Delta all of his life. He was a former Boy Scout leader in Delta, and was a member of First Presbyterian Church in Jackson since 1949, where he was ordained a deacon in 1965. Allen was also a member of the Apple Creek Cemetery Association, and former trustee and vice president.
Loving survivors include a son, Tom (Carol) Henderson of Delta; four grandchildren, Elaine, Matthew, Emily and Lisa Henderson, all of Delta; a brother, Walter (Lillian) Henderson of Elon College, N.C.; and a sister, Elizabeth Henderson of Spring Hill, Fla.
In addition to his wife, he was preceded in death by a brother, James Henderson, and a sister, Hazel Smith.