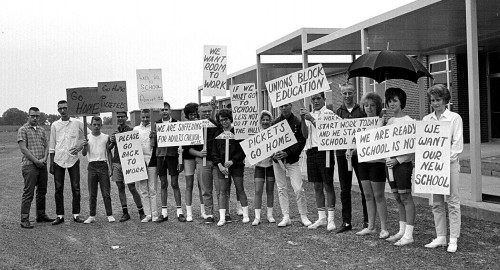 This must have been one of the first protests I covered. There are two frames on the roll of Jackson Pioneer Editor Gary Frederick in the envelope. One of the shots has an August 1964 calendar in the background and the negative sleeve is slugged "Jackson Jr. High – Gary at office," so this must have been for The Pioneer and in the summer of '64.
The odd thing is that this group of what appears to be students, parents and teachers are demanding that union pickets go back to work so the Jackson Junior High School could open on August 31, but there weren't any union picket lines set up and a couple of photos show workmen working. There are signs for Crites and Sailer Construction Company and Kelpe Electric Company in two of the photos, but I don't know if their workers were the ones striking.
Are these two different schools?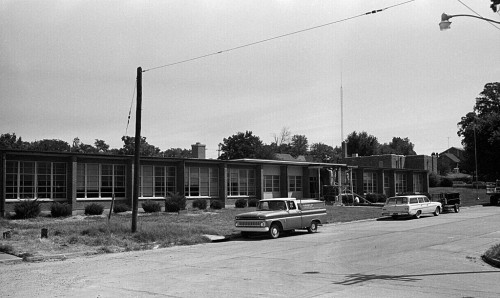 This building looks like it might be in town, while the new junior high was located on what was the outskirts of town in 1964.
I think this might have been the assignment where somebody at The Pioneer tossed me some car keys and said, "Hey, Kid, go out to the junior high school and see what's going on." Unlike most of my peers, I didn't run right out and get my driver's license at one minute past midnight on my 16th birthday. I hadn't been driving all that long in the summer of '64 and I certainly hadn't driven any car other than the family's Buick station wagon. When I stepped on the brakes at the first stop sign, I felt that sickening feeling you get when you realize that you could do better by dragging your feet on the ground like something out of The Flintstones. It was a good thing the junior high school wasn't too far away and that there wasn't much traffic.
Junior High School photo gallery
For what it's worth, here's a selection of photos from the protest and school construction. Click on any image to make it larger, then click on the left or right side to move through the gallery.