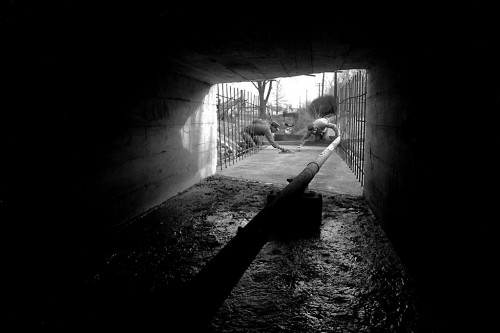 Paul Blue, left, of Delta, and Tony Ziegler, of Advance, finish the concrete floor of a culvert near the intersection of Hopper Rd. and Kingshighway. The photo was taken Feb. 11, 1967, and ran in The Missourian two days later. The pipe in the foreground carried water from a cofferdam through the culvert and out of the work area.
Hawthorn (now Clippard) School
The project, under contract to Superior Concretors, included grade improvements, widening the roadway to 36 feet and concrete paving from Kingshighway to the Hawthorn School. (Hawthorn School was renamed to Charles C. Clippard Elementary School in 1991. Charles Clippard retired after being principal of the school for 25 years, and with the school district for 35.
I hope Paul Blue's name is spelled right
There were some folks down around Delta and Advance who spelled their last name "Below," but pronounced it like "Blue." Actually, it was more like "BaLoo," but it was close enough in sound that I was always afraid I'd make a Blue a Below or a Below a Blue.