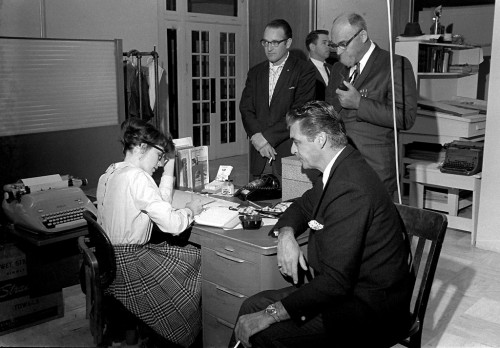 Newspaper people are pretty blase about celebrities. Or, at least, they pretend to be, even if they're not. Notice how business-like Society Editor Emily Hughes is while she's interviewing heartthrob  Rory Calhoun in 1966 or thereabouts.
As a testament to Emily's importance, she was the only person in the newsroom with an electric typewriter.
I'm not sure who the suits are with Calhoun. Someone said they thought they might have been from KFVS-TV. I don't know if a story ever ran in the paper. The Missourian had a quaint style that said you never mentioned the call signs of the Cape radio and TV stations unless you couldn't avoid it. They were to be referred to as "a local station."
Proofreaders are visibly impressed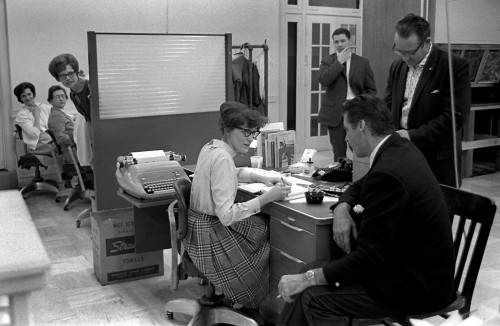 The proofreaders are leaning around to get a better look at the genuine badboy star of The Texan, and more than 80 movies. He had a part in just about every oater on the small screen. When Westerns fell out of favor, he appeared on police shows and sitcoms. In all, he appeared in more than 1,000 TV episodes.
His father died when he was nine; a theft of a revolver at 13 landed him in reform school; he escaped, robbed several jewelry stores and swiped a car. That and some other escapades got him boarding in the federal pen in Springfield, Mo., and San Quintin until he was just shy of 21.
He got his acting break when he happened to run into Alan Ladd while horseback riding in 1943. His agent changed his name from Francis Timothy McCown to Troy Donahue, then decided that the young man made a better Rory Calhoun. (His agent eventually used the Troy Donahue name for another actor, Merle Johnson. Who knows why he thought Francis made a better Rory than a Troy?)
Calhoun had quite a reputation as a lady's man. When his second wife, Lita Baron, sued for divorce, she named 79 women with whom he had allegedly committed adultery. Calhoun responded, "Heck, she didn't even include half of them".
He died in 1999, at age 76.
Proofreaders could save you
I always had a soft spot in my heart for Missourian proofreaders. They weren't supposed to look for errors of fact; they were only supposed to check the copy against the type proofs to make sure the typesetters hadn't deviated from the original text. In reality, someone like Gloria Davis, far left, above, would walk over to your desk with a piece of perfectly clean copy and say, "There's a smudge here. The pastors name is Boone, not Boob, right?" "Oh, yes, I guess the typesetter must not have been able to read that clearly. Thanks for catching that."
Rory Calhoun visits the back shop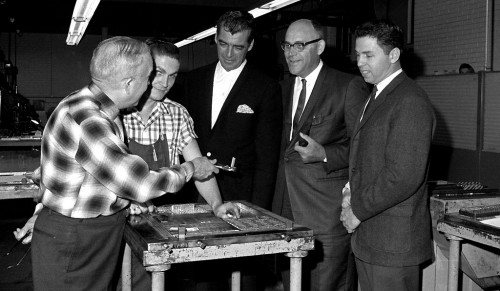 Visiting dignitaries generally don't make it back to the composing room – the back shop – where the paper comes together. The group is standing next to a "turtle," a heavy steel table on wheels that support the frame where the lead type is laid out. After the page is made up, the bolts on the side of the frame are tightened to keep anything from moving. The back shop foreman, whose name escapes me, is showing the visitors the tool used to tighten the bolts. The man in the plaid shirt to his right is Johnny Hohler.