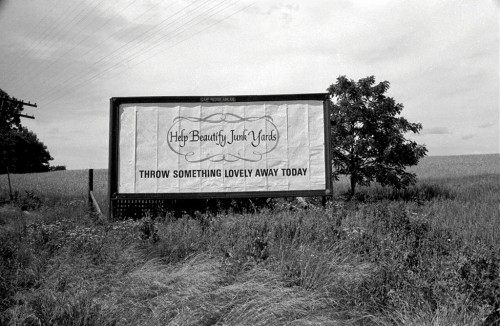 I made it from Gainesvill, Fla., to just south of Nashville today. Skies were overcast, even traffic through Atlanta wasn't all that bad. An audio book made the miles go quickly.
I wasn't tempted to shoot anything along the road today, which is a good thing. I just discovered that the memory card is still in the computer and not in the camera. If I had reached for the camera to shoot that once-in-a-lifetime shot and found no "film" in it, I'd have been unhappy.
"Throw something lovely away"
This scan from somewhere around Cape has been kicking around for months, but I couldn't find an excuse to run it. It's a "road" shot, so I guess that's my excuse.
The only thing I can't figure out is who would put up a billboard that says, "Help Beautify Junk Yards – Throw Something Lovely Away Today." There's no small print with a sponsor name on it.