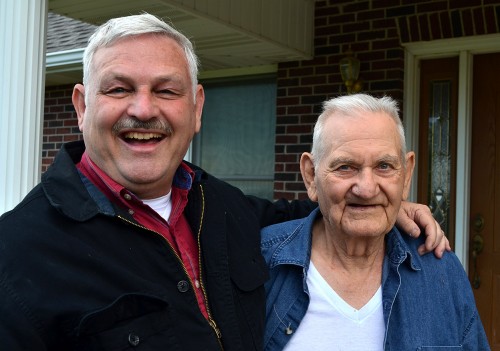 Class of '66 buddy Dick McClard and I were driving around after trying to locate the mass grave from the steamboat The Stonewall near Neely's Landing this spring. We think we're getting close, but it's going to take some more looking.
Anyway, he suggested we go see Fred McLard's log cabin. (That's not a typo: those folks never could get the spelling of their names right. They answer to McClard, McLard, McLaird and MacLaird, among other things.) Dick's on the left, Fred's on the right.
Cabin lives inside barn
At some point long ago, a barn was built around the log cabin. The farm is across the street from the New Bethel Church, close to the intersection of County Roads 532 and 525. It's on private property, but Fred's a nice guy and would probably give you permission to take a look if you knocked on his door.
The view across the fields from his house is just short of spectacular, too.
Photo gallery
Here are some detail shots of the cabin. Click on any photo to make it larger, then use your arrow keys to move around.