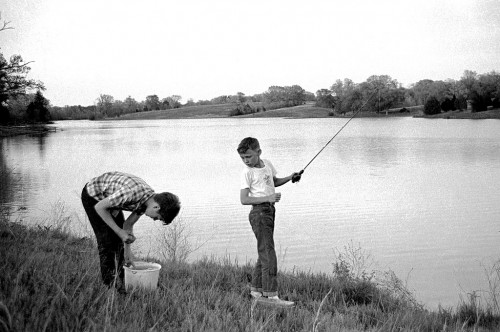 I don't know who these boys are, but the place has the feel of Cedar Lake to it. I see a fence on the left that's going off into the water. I vaguely remember something like that from the half-dozen or so times I went to the lake. The boy on the right has on a Boy Scout T-shirt, but I don't recall ever going out there with Troop 8.
If I recall it correctly, you'd pull up to a farmhouse and pay to fish. They must have had boats for rent. Jim Stone, Lila, someone else and I went out there once, and there's a photo of Lila and me in a boat floating around (pardon the pun) somewhere. I don't know if we rented it or if we just sat in it for the picture.
Lake looks free of development

View Cedar Lake in a larger map
This Google Map looks like the lake hasn't changed much in the last 45 or so years. I'm surprised that there aren't houses sprouting up all around it yet. I'm glad it looks pretty much like it always did. I'll have to take a drive out there on the next trip home.
This may or may not have been close to the bridge where kids would cheat death.