I was rocketing along a levee road trying to get a good angle to shoot the suspension pipeline over the Mississippi River between Grand Tower, Ill., and Wittenberg, Mo., when I saw the sun light up the tassels on on a corn field. It was worth stopping for 45 or 50 seconds. Click on the photos to make them larger.
Longest suspension pipeline in the world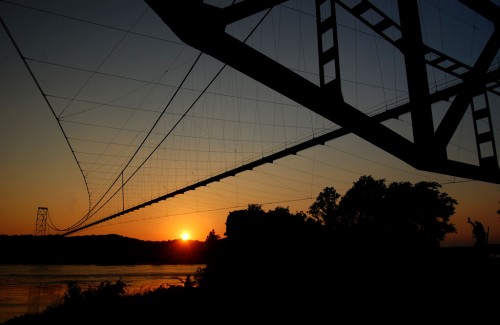 When it was built, this pipeline was said to be the longest in the world. Someone saw some of the photos I've taken of it over the years and suggested it would be a nice souvenir photo book to go along with a couple others I'm working on.
I have shot it from below while working on a story about a ferry that crossed under it; I've shot it from the north, west, south and the air. This was the first time I've shot it from the Illinois side.
Must be getting old
I had been there about an hour earlier and got some nice pictures, but after heading north along the river and not finding a good angle, I decided to race the sun back to here. I made it with about five minutes to spare. When I blasted over the top of the levee and screeched to a halt, Mother yelled, "Whoa!"
She never yells. "Whoa!"
She yells "Gun it!"
She must be getting old.