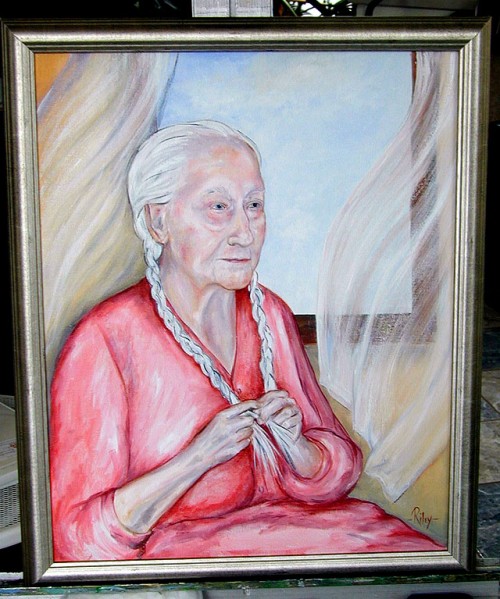 When I saw a headline in The Southeast Missourian that Florence Poe, Cape Giradeau's oldest woman had died at 112, it didn't register very high on my interest meter because I didn't have any connection with her, John Donne and "never send to know for whom the bell tolls," not withstanding.
That's when Wife Lila pointed out that her sister, Marty Perry Riley, had painted the woman's portrait when Mrs. Poe was 107. Marty said that one of the most striking things that she wanted to capture was the beauty of Mrs. Poe braiding her long, white hair every morning.
Mrs. Poe at her 110th birthday celebration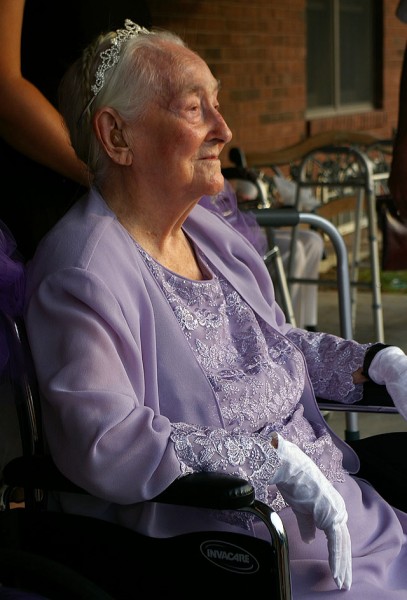 Marty took these two photos at Mrs. Poe's 110th birthday celebration. The woman was blind – "her eyes just gave out" – and her body was old, but she was "sharp as a tack. She would tell stories of coming to the area in a covered wagon."
The Missourian's obit by Alaina Busch said that Mrs. Poe was born Aug. 24, 1897, and was the seventh oldest documented person in this country and 16th oldest in the world. That's the info that the Gerontology Research Group had current as of March 15, 2010.
Mrs. Poe is survived by three daughters and – as the old obit phrase used to go – "a host of other friends and relatives." Her mother was almost 104 when she died; her oldest daughter is 91.
She wanted to prove she could walk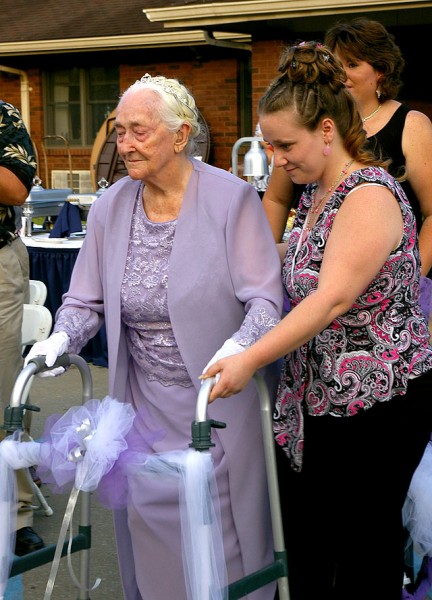 Mrs. Poe was fiercely independent, Marty said. When she turned 110, she wanted to let people know that she could still walk. She was delivered to party in a purple and white lace-decorated wheel chair, but she walked to the table on her own.
Mrs. Poe died March 21 after suffering a stroke.
Thanks to Marty for providing the images and memories. I love the regal and dignified look she captured. Mrs. Poe is no longer a stranger to me. I've heard John Donne's bell.