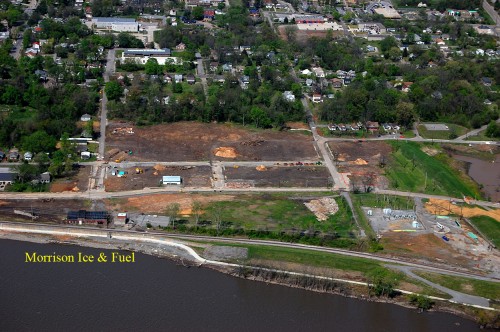 When I posted an aerial shot of the Casino area and one taken from the river levee, I received two comments and an email that sent me looking for a better vantage point. (You can click on the photos to make them larger.)
From Keith Robinson: Ken, if you notice, there is a brick structure in the lower left of the above aerial photo. That structure was built around 1908 and was the Morrison Ice and Fuel Company. It remained as such until sometime around 1931, when it is identified on Sanborn maps as Riverside Ice and Fuel Company. This business made ice for sale to city residents and also served the local railroad by providing ice for the old ice-cooled reefer cars.
From Drew Wright: Ken, there is a great view of the construction progress from Mill Street, at the upper left of your aerial shot.
From Keith Robinson: Ken, I drove down to Cape last night to visit my brother, Karl,  and dad.  I took the time to drive by the construction site and discovered the old building is no longer there.  Here today, gone tomorrow.  I am even more interested in any ground level pictures that you might have.
Morrison Ice and Fuel is gone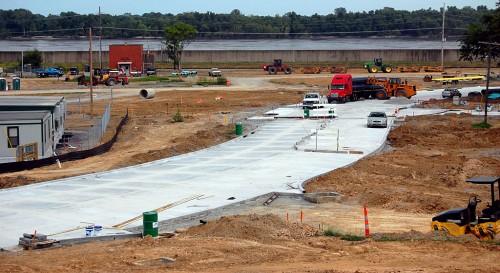 Keith was right. When I went to the Mill Street vantage point, there was a big empty space where the brick building south of the pumping station used to be. The new paving in the foreground is the Main Street relocation. I'll have more photos of it in the next few days.
Keith is a real bulldog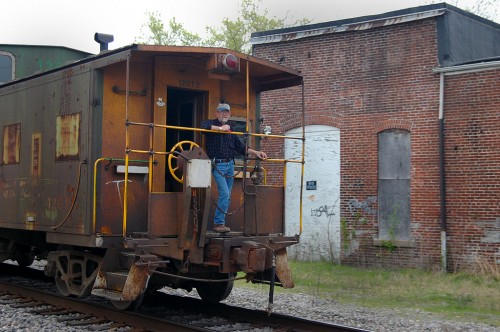 Keith might have been a Central High Tiger in the old days, but he's turned into a bulldog when it comes to area history. As I've mentioned before, he's a model railroader who is attempting to recreate everything connected with rails between Nash Road and Cape Rock. Because the F.M. Morrison building hugs the old Frisco Railroad tracks, it's within his area of interest. BNSF conductor Randy Graviett gave me a friendly wave from his caboose this spring. (OK, he's not exactly waving in THIS photo, but he DID wave.)
As an example of his diligence, I present this pdf document of F M Morrison links he sent telling the history of the nondescript brick building.
Added sand and coal to the ice business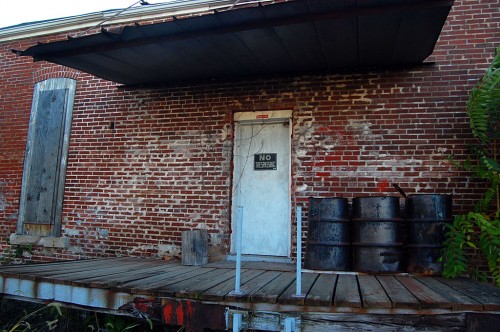 F.M. Morrison decided to buy the best equipment available to corner the ice market in the Cape Girardeau area in 1903 when he established The Morrison Ice and Cold Storage Co. In 1906, he dropped the cold-storage business to concentrate on the wholesale and retail ice and fuel business. It wasn't long before he added coal and sand to his holdings. These photos were taken in 2009, long before I had any idea what the building was used for.
Henry Vogelsang renamed it Riverside Ice and Fuel Co.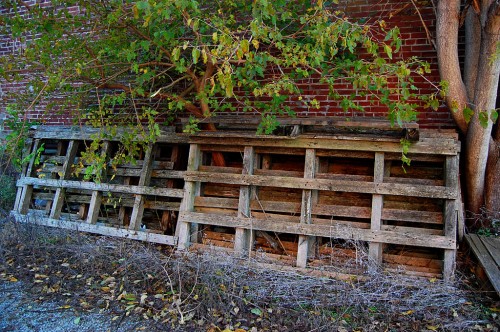 In 1922, Henry H. Vogelsang bought the business and renamed it Riverside Ice and Fuel Co. In 1928, 21 horses burned to death in a barn at Riverside. The damage, about a third of which was covered by insurance, was estimated at $5,000. The cause of the fire wasn't immediately known.
Five businesses hit; total take: $35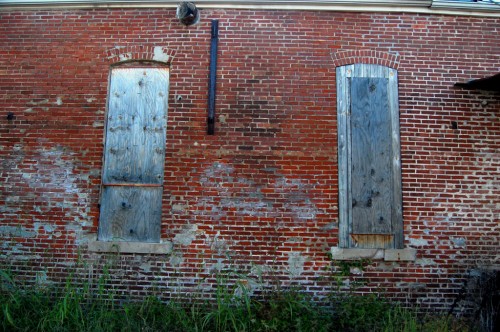 A 1932 Missourian story reported that "Burglars ransacked five establishments in Cape Girardeau over the weekend, wrecking two safes and making off with only about $35; places entered were Cape Sand Co., Sides Oil Co., a gasoline station owned by Simpson Oil Co., Riverside Ice and Fuel Co. oil station and the Cape Girardeau Memorial Works office."
That was a lot of burglarizing for such a small return.
Riverside became Pure Ice Company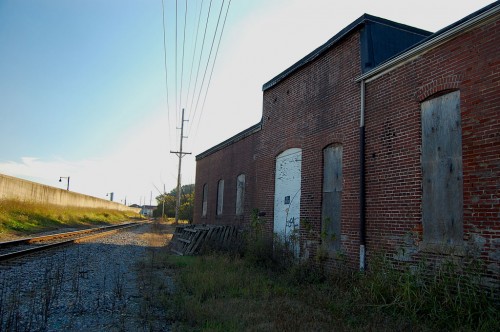 Pure Ice Co., which was established May 26, 1926, on 314 S. Ellis Street (and still produces ice), eventually bought Riverside. When refrigerators first started coming out, Pure Ice sold Coolerator iceboxes, but marketed them as a replacement for the old-fashioned wooden iceboxes (with a $5 trade-in), not as refrigerators as we know them today. Home ice delivery went on in Cape until the 1960s.
The iceman was a familiar character in Cape. There was a surprisingly long obituary for Sam Randol, "well-known colored ice dealer. Randol was among the better colored citizens of Cape Girardeau and stood high both among the people of his race as well as among the white citizens. He had been in the ice business here since a young man and was known by most every family in the city."