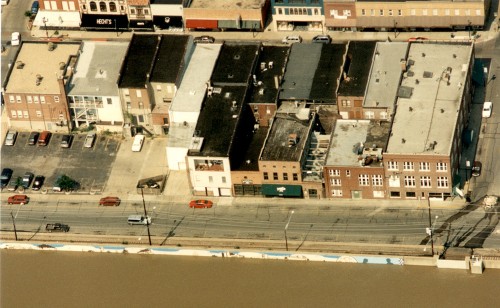 After I posted the photo of Red Star flooding in 1993, Reader Andy Pemberton commented, "The 1993 picture is dramatic! It looks like the levee / floodwall could be topped at any time."
These aerials of the downtown DO make the flood look pretty scary. That's a lot of water being held back and not a lot of freeboard. The murals are the wet side of the floodwall are barely visible.
Broadway intersects with Water Street on the right. (Click on the photos to make them larger.)
Had a way to go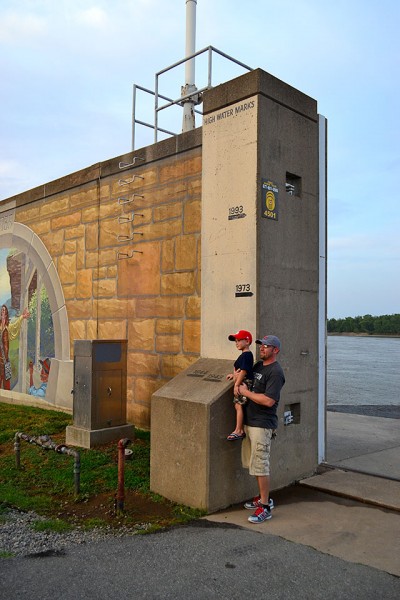 If you look at the high water marks in this 2012 photo of the open floodgate, you can see the water still had a way to go before topping the wall, but I've seen towboats throw up wakes that high.
Close call in 2011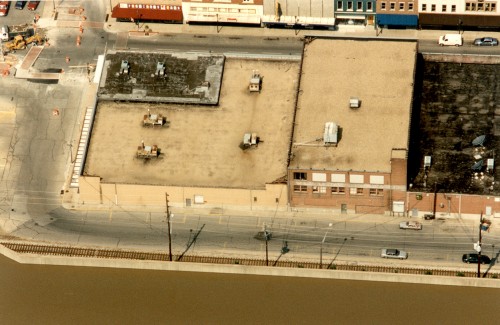 The floodwall makes a little jog on the left of the picture, at the foot of Independence Street. When I walked the riverfront in April of 2011, I noticed that some work was being done on that section. I found out later that the repairs were six to 12 months ahead of schedule because of $4 million in stimulus money that had been approved in 2009.
Had that project not been expedited by the stimulus, that 8-foot section would likely have been open when the Mississippi hit its fourth-highest crest of 46.09 on May 2, 2011. Fred Lynch had a photo of the gaping hole on his blog.
One of The Missourian's normal grousers complained after the news of the stimulus broke, "…thanks to the federal stimulus bill…Yeah, they had a few extra bucks laying around that they were kind enough to share. So sweet! That 6 to 12 months gained will take years for our kids to pay for. Thanks kids!"
I'm sure Cape would have sustained more than $4 million in damage had that project not been sped up.