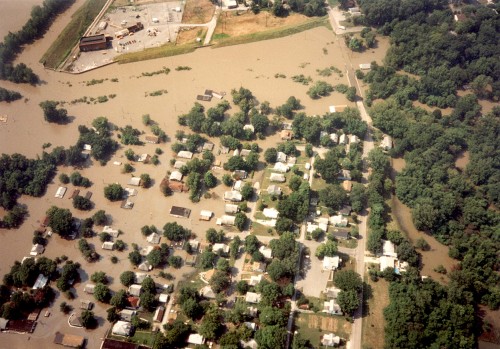 It's pretty easy to tell Wet Cape from Dry Cape during the 1993 flood. This aerial photo shows the Red Star District looking south from about 4th Street. The city's floodwall is barely keeping the Mississippi River out of the town. (Click on the photos to make them larger.)
Buyout left green spaces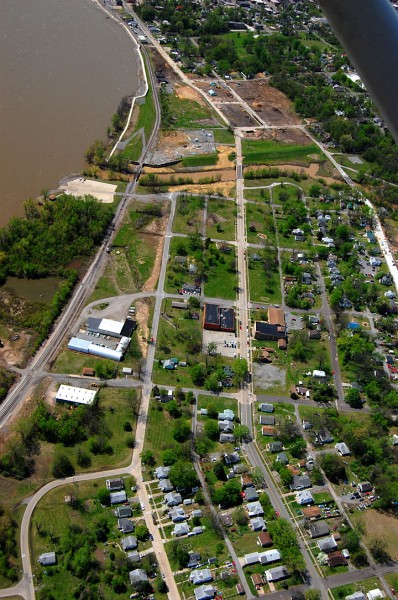 This 2011 aerial shows a lot of empty green spaces left after many residents took buyouts to keep from going through this again. This is looking south from just below Johnson Street. The photo was taken just as clearing for the Casino was beginning.
2011 Red Star looking west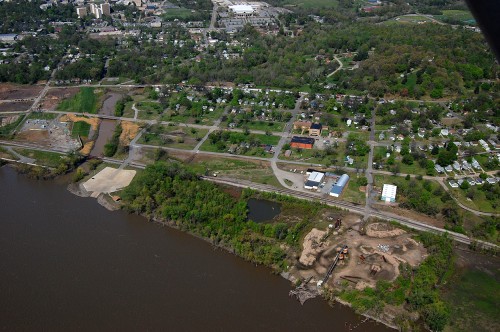 This aerial showing the Cape Girardeau Sand Company and what is left of the Red Star District was taken April 17, 2011. The concrete pad at the left of the photo is what we used to call Honker's Boat Dock. To the left of Sloan Creek is the area that is being cleared for the Isle Casino Cape Girardeau. The light-colored building at the top center is the Show-Me Center.