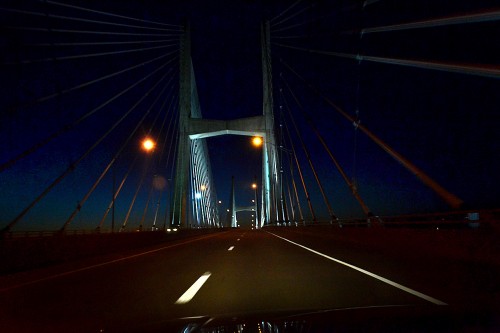 We were hitting East Cape just past sunset on the way back from Kentucky Lake. I couldn't resist shooting some photos of the Bill Emerson Memorial Bridge as we approached it.
No, I wasn't looking through the viewfinder instead of driving. I was resting my camera-holding hand on the top of the steering wheel and blindly pressing the button. Exposure and focus were done by the camera, for the most part, although the last thing I shot before this was set to underexpose 1.3 stops.That was probably a lucky thing because a normal exposure would have been too light.
If you like the photo, I'll take credit for picking the best frames out of about 60 shots.
Bridge photo gallery
Click on any picture to make it larger, then click on the left or right side of the image to move through the gallery. The distant shot is blurry because the camera was set to a slow 200 ISO for a previous shoot in bright sunlight. When I noticed the exposure sounded like it was about two seconds long, I pulled off to the side of the road and told the camera to shift to a more sensitive "film" setting when the shutter speed fell below 1/30 second. The shot above was 1/30 of a second at an ISO of 1100.