When I first saw this photo, I thought it made have been the razing of the St. Charles Hotel on Main Street. I'm going to let you tell me what building is in the foreground, because I'm not sure. Here are some clues, though.
Criss Cross Cafe?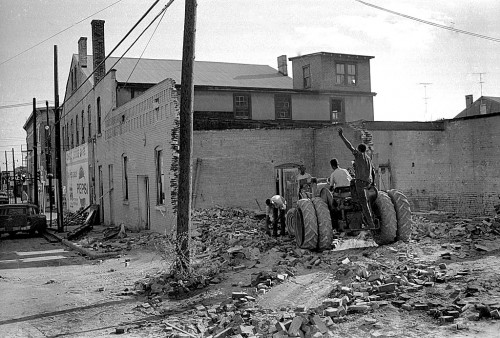 This photo, shot from a little more to the east shows a tantalizing amount of info. There's a Pepsi sign advertising what looks like Criss or Cris Cross Cafe on the side of the building.
Like the movie Blowup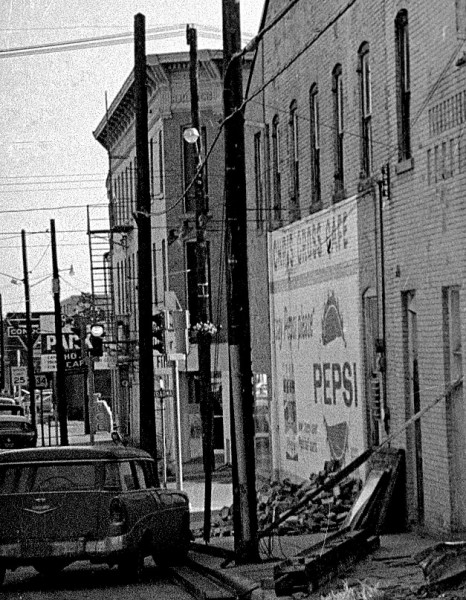 A 1966 British movie about a photographer who photographed what might have been a murder scene came to mind here. The photographer took the negative into the darkroom and made increasingly larger blowups of it trying to figure out if he really saw what he thought he saw. Of course, the bigger the enlargement, the more the image degrades, and the less sure he was.
Playing the British photographer, I blew up just a portion of the frame above, enhanced the contrast and applied some sharpening filters to bring out maximum detail. That provided a few more hints.
Clues to the location
There is a street sign that looks like it says Broadway.
There's a Rt. 34 marker
There's a Conoco Station sign.
There's a three-story building with a doorway on the corner. It looks like it might be Finney's Rexall Drug Store.
There's some kind of parking, maybe for a hotel and / or cafe.
Did Subway shop replaced Finney's?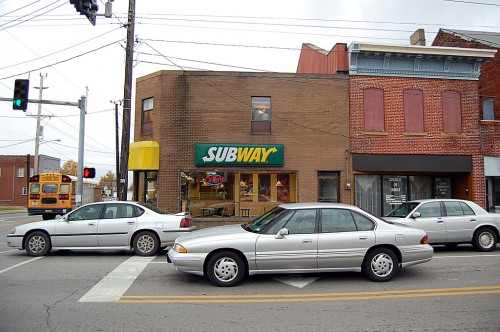 This October 2009 photo looks like a Subway shop may have replaced Finney's. A Google Earth aerial of the intersection shows a vacant lot at the northwest corner of Sprigg and Broadway today. That might mean that these workers razed the whole building, or it might have been taken down later.
Any idea what was in the building being torn down?