World War II veterans are dying at the rate of 1,000 to 1,500 a day; Vietnam vets are leaving us at about 600 a day. Many of them are being buried in veterans cemeteries, which are running out of room. To help take care of that need, new cemeteries are being created, including one in Bloomfield.
The Missouri Veterans Cemetery at Bloomfield conducted its first interment on Sept. 29, 2003. The cemetery's website says that the cemetery has an approximate capacity of 27,000 gravesites. The cemetery is located on 65 acres of the historically significant and scenic Crowley's Ridge in the Bootheel of Missouri. The cemetery shares a common entry with the Stars and Stripes military newspaper museum and library.
How to get to the cemetery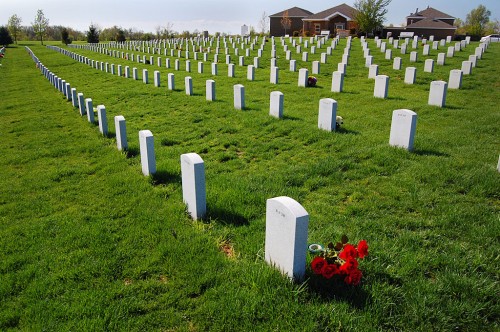 The cemetery is located on Highway 25 on the southern edge of Bloomfield.
From Highway 60 take Highway 25 north exit toward Bloomfield. Travel approximately 4 miles north and the cemetery will be located on the west side of Highway 25.
If arriving from the north on Highway 25, travel through Bloomfield and the cemetery will be located at the southern edge of Bloomfield on the west side of the road.
We'll do a story on the Stars and Stripes Museum soon (maybe even tomorrow).
Less than five minutes away is the Stoddard County Confederate Memorial. It has grave markers for 121 Stoddard County Confederate soldiers, nine civilian "political prisoners" and 22 non-Stoddard Countians who died in the Civil War. What's unique is that each stone has inscribed on its back the cause of death of the person.
Here's a piece I did about a mysterious gravestone at the Santa Fe National Cemetery.