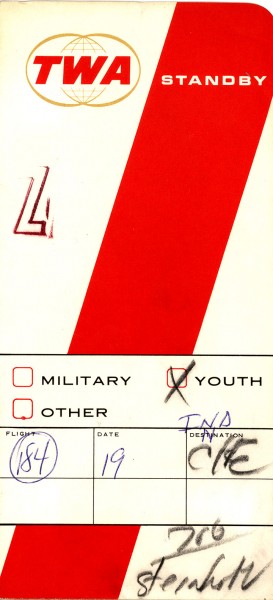 I ran across an old TWA ticket stub from March 19, 1967. I was flying from St. Louis to Cleveland on what the airlines called "Youth Fare," but most of us dubbed "student standby."
St. Louis to Cleveland for $16.54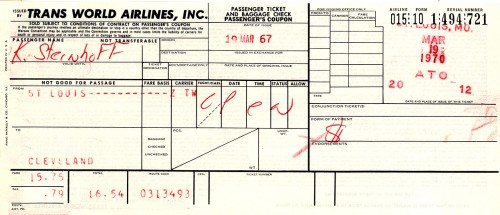 I was able to fly from Missouri to Ohio for $16.54. I was racking my brain trying to figure out why I was going to Cleveland, then I figured out what was going on.
In March of 1967, I flew to Cleveland and probably got a ride down to Athens with one of Jim Stone's friends so I could visit him at Ohio University to check out the school. It was a good thing I did. I had applied to OU, but I hadn't gotten a rejection letter or an acceptance letter. Jim suggested we go by the admissions office to see what was going on.
"Your grades aren't high enough to meet our standards," I was told.
"Not good enough?" I countered. "I have a 3.85 average on a scale of 4.0. How smart do I have to be to get into this place?"
She pulled out my file, shuffled through the paperwork, then said, "Somebody made a mistake. You're in."
You were good unless you got bumped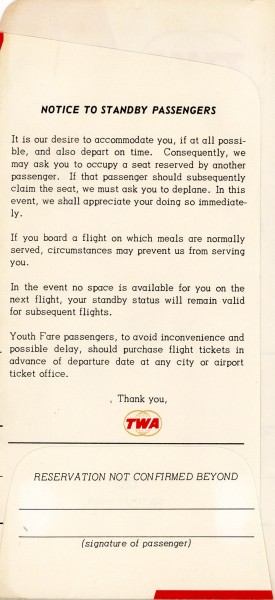 The airlines were clear that your seat was safe only so long as the seat wasn't sold to a full-fare passenger. Planes flew with lots of empty seats in those days (which is why they calculated that a half was better than a nothing), so the odds were pretty good that you were OK.
I never got bumped, but I saw others having to leave the plane. That always made me nervous because I had seen enough of those crash stories where some kid was interviewed, "Yes, I was going to be on that flight, but, at the last second, I was bumped. If that hadn't happened, I'd have been on that smashed tin can still smoking in a cornfield in Iowa."
I was doubly nervous when I finally became a paying customer that bumped the last standby. That was REALLY tempting fate.
When did it end?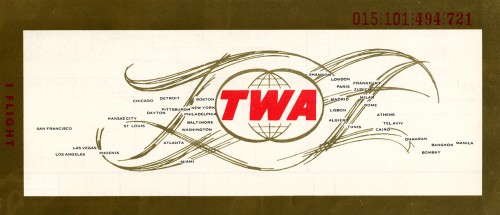 I tried to find a little of the history of student standby, but didn't run across much. The Daily Pennsylvanian had a story in 1968 that said that several airlines were phasing out the half-price standby fare, going for one charging two-thirds of the tourist class price. The trade-off was that it would be considered a reserved seat not subject to bumping.
TWA, interestingly enough, was NOT one of the airlines eliminating standby at that time.
In addition to bringing in revenue from what would otherwise be empty seats, the youth fares hooked a whole generation on flying, and airline execs were quoted as saying they hoped to build brand loyalty for future sales. "With a student fare, the student's taste is catered to a particular airline. When he is 22, he is more likely to use that airline."