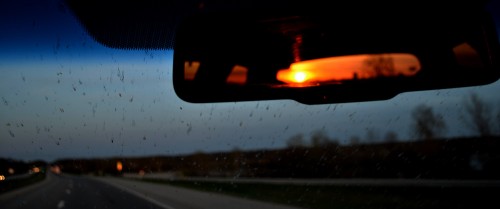 I've been tied up at the Athens Historical Society and Museum all day helping Curator Jessica get ready for an exhibit containing a bunch of my photos. We're rushing to get captions done. I'm having horrible flashbacks of my Ohio University career as a student.
That's why you're going to get some random photos taken on the road between Cape and Athens.
I was hoping to get a nice sunset reflection in my rearview mirror, but the short zoom was too wide and the long zoom too long. The only reason I'm including it is that it gives you an idea of how bad the bugs were at twilight.
Between lost and found
I told Brother Mark I'd be back trucking again as soon as I got some go juice.
"Where are you?" he asked.
"Midway between Lost and Found, Indiana, I think," I responded.
Did I shoot this before?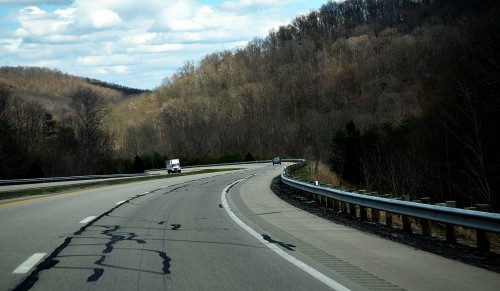 I have the weird feeling of deja vu that I shot this set of hills and curves before.
You may see them again. I like the way all the shadows, hill and lines work together under different lighting conditions.