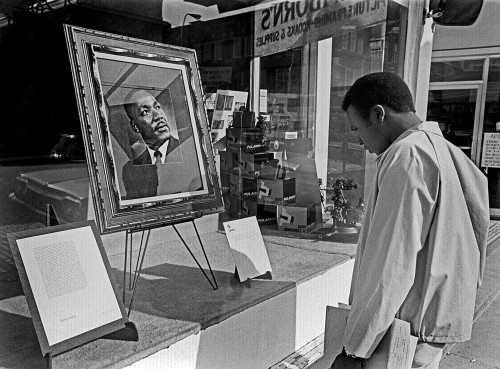 I photographed this young man looking at a portrait of Dr. Martin Luther King, Jr., in the display window of Lamborn's Studio in Athens, Ohio, on April 9, 1968, five days after the Civil Rights leader was gunned down in Memphis.
It wasn't until this evening that I blew it up big enough to read the inscription on the left. The photo was taken by famed photographer Yousuf Karsh. Estrellita Karsh donated the portrait to the National Portrait Gallery in his memory.
Click on the photo to make it larger.
How the photo was taken
A man constantly on the move, Martin Luther King was most often photographed in action by those covering the events of the civil-rights movement. This likeness by renowned portraitist Yousuf Karsh is a different kind of image—a formal portrait that utilizes pose and lighting rather than environment to identify King as a leader and a visionary. Karsh made the photograph in August 1962, when King returned to Atlanta following the prolonged and dispiriting struggle for desegregation in Albany, Georgia. With very little time to work, Karsh photographed his subject in the only space available—a corner of King's Ebenezer Baptist Church. Recalling the circumstances of that sitting, Karsh noted, "Nowhere could [King] relax when constantly beset by friends and aides wishing him well, commiserating on his difficulties, congratulating him on his return, and planning new strategy."
Earlier stories about Martin Luther King, Jr.