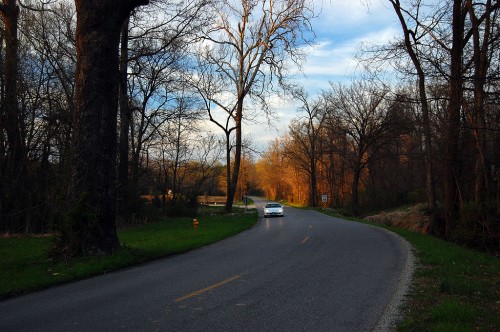 When we were driving past the castle called Elmwood, my mother wondered if a spring she remembered as a little girl was still there.
I had heard her talk about it years and years ago, so I thought I knew approximately where it was alongside Bloomfield Rd. I parked my van at Kensington Lane and walked north, back toward the curve in the road leading to Cape.
This view, by the way, is the reason Bloomfield Rd. SHOULDN'T be widened. There should be some roads left that let us appreciate what the area was like before it became paved over. If the road isn't fast enough for you, then don't move out there. Ditto Route W. OK, rant off.
Just south of the big tree that's shown in the photo above and on the west side of the road, I saw a small rivulet of water running toward what used to be the Elmwood estate.
Water boils mark the spring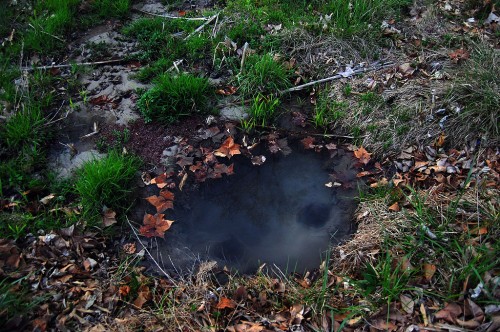 I didn't see a pipe running under the road that would account for the stream. When I looked at the pool through a polarizing filter on my camera, I could see beneath the reflections on the water's surface.
Those black circles mark where water is boiling up out of the bottom of the pool.
I had found my Mother's spring
"My Grandmother – my Mother's Mother – Mary Adkins, would always buy some kind of pan at the dime store every time we came to Cape from Advance. On the way back, we'd stop at that spring and dip out a drink in the new pan. She died in 1938, when she was 75 years old, so that was quite a few years ago," my mother, Mary Welch Steinhoff, recalled.
"I don't remember what kind of car we had – it was before Model T days. Mother (Elsie Welch) would usually come along; Grandmother would drive. Dad (Roy Welch) never liked to drive."
Did you stop for a drink on the way TO Cape?
"No, we didn't have a pan on the way TO Cape."
"Didn't you ever think about bringing one along?" I asked?
"No, I guess she wanted a new pan and this was always an excuse to get one."
View of spring looking south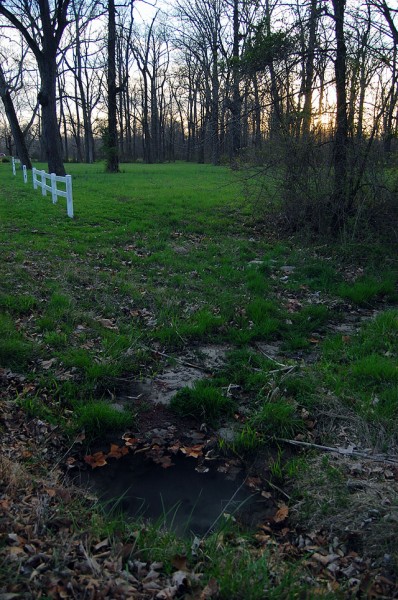 That white fence marks what used to be the Elmwood property. I don't know if this is in the 900 acres that were sold for the Dalhousie Golf Club or if it's part of the 70 acres retained by the estate.
Map showing spring and Elmwood

View Bloomfield Spring & Elmwood in a larger map