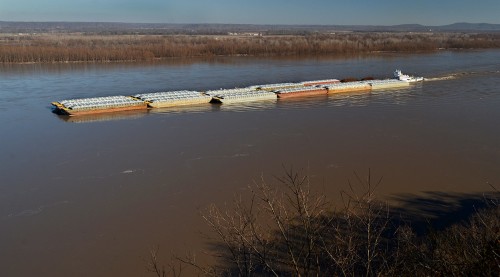 Road Warriorette Shari came down from St. Louis the other week with a list of places she wanted to go: Old Appleton (where we saw the old Silver Dollar Tavern just hours before it was torn down), the Mississippi Mud Tavern for Liver and Onions Night, the Lutheran Heritage Center's Christmas tree exhibit, and Trail of Tears State Park.
From the Mississippi River overlook, we were lucky enough to catch the MV Donna Griffin coming upstream. We could hear her talking to another boat to arrange a passing, but I think it was well north of us, so we didn't get to see that. We could hear a train whistle in the distance, but it must have been on the Illinois side, so we missed seeing two major transportation systems at the same time.
Rigging amazes me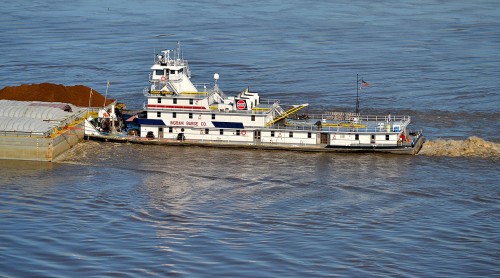 It always amazes me how the pilots and captains can maneuver long strings of barges around sharp bends and between bridge piers. I know those straps have to be bigger than they look in this photo, but still, I can't imagine how much strain is placed on them when the captain needs to move something that's a thousand-plus feet in front of him.
Here's a website with some interesting factoids. It says that a standard barge is 195 feet long and 35 feet wide, although some of the newer ones are 290 by 50 feet.
Let's assume that the ones in the photo are standard length. The string appears to be two wide and six long. That would mean that you have to figure out where to make your turn from nearly 1,200 feet back. Think about THAT the next time you complain about a parallel parking space being a little tight.
You can click on the photo to make it larger, but I didn't spot anyone on deck checking us out.
Bald Knob Cross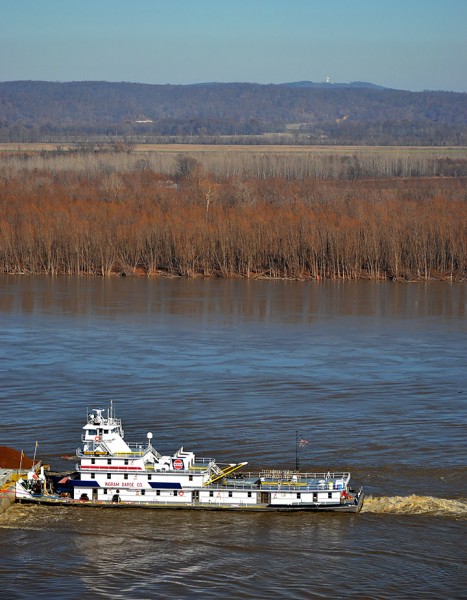 That little white dot on the top of the hill in the distance is the Bald Knob Cross.
Has had three names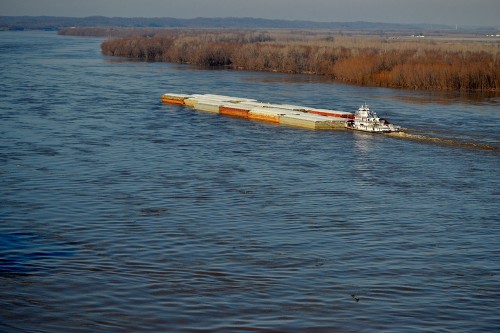 The Donna Griffin was built by Nashville Bridge Shipbuilding in 1965. A website, reports that she was named the Julia Woods until May 2006, when she became the Michelle O'Neil. In May 2009, she was renamed the Donna Griffin. I didn't find anything that explained who the boat was named for nor the significance of changing the names in May.
A shipbuilding site said Nashville Bridge Company was originally a bridge builder, founded in the 1890s. It was converted to shipbuilding in 1915 and, by the 1960s, it was said to be the world's largest builder of inland barges. George Steinbrenner bought it in 1969 and added a second yard in Ashland City in 1977; he sold the company to Trinity Marine Group in 1995. Trinity closed the Nashville yard in 1996, when the City of Nashville decided that the downtown shipyard property would be more valuable to the community as a stadium.
She is 180.1 feet long, 50.5 feet wide, and the hull depth is 11.5 feet.
The towboat is owned by Ingram Barge of Nashville, the largest carrier on the inland waterway system.