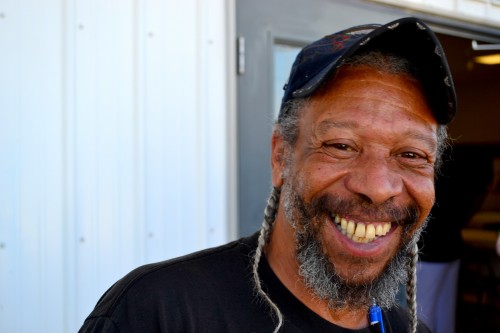 I've been working like crazy transcribing interviews and editing videos to try to get them ready for the Vine Street Reunion at the end of this month. I had forgotten how much I enjoyed talking with Bill Beal at a 2012 family reunion. (He's been trying to shed the "Billy" nickname as long as I've been trying to retire "Kenny.")
Bill was one half of one of my favorite photos from Smelterville in 1967. He said he was 10 or 11 when I shot the picture with him, Margaret Turner and a cat. His sister, Fay Beal Powders, said "Not many people had cats, but mother let us have cats because I loved them." Bill, she said, was a twin, and so was Margaret, his cousin.
Bill and Margaret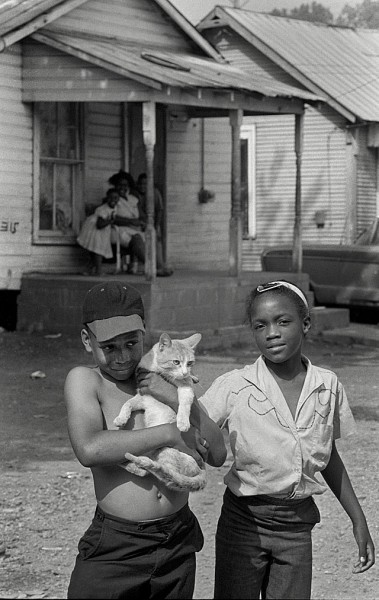 He dropped out of Central High School when he was 17 and went into the military. "I wanted to get out of Cape and I wanted to better myself. I was a ground pounder [in Vietnam]. Carried an M60 around."
"A scrawny guy like you carried an M60?" I interjected.
"A big M60 and belts," he said. "Then I got into sniper. I really enjoyed that. It's not all what they say it's cut out to be," he continued. "When you go into sniper, you might be off in that drain pipe over yonder and you have to sit there for two or three days. You can't move, and that's it. I mean, bugs bite you and you can't move. Snakes run across you and you can't move."
"Would you do that part of it again?" I asked.
"Yessir. In a heartbeat. In a heartbeat, I would."
Dad was a truckdriver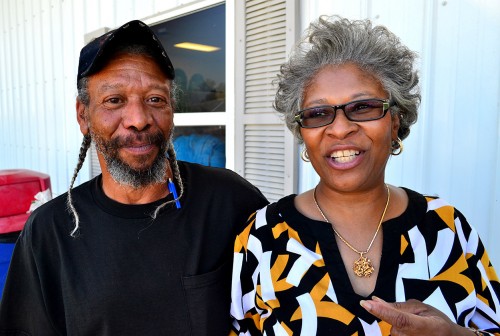 Bill's dad was a truck driver for the cement plant until he died of a massive heart attack when Bill was about 8 or 9. When he got out of the military, he thought, "maybe truck driving is in my blood." He's been an owner-operator for more than three decades, and "I put three stepkids through college."
That's Bill's sister, Fay, with him.
Happy memories of Smelterville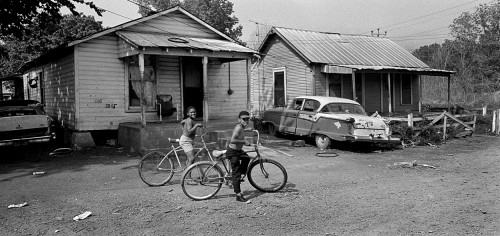 Echoing the sentiment I've heard from everyone I've interviewed, Bill had happy memories of growing up in Smelterville: "We didn't go hungry. We weren't dirty. We weren't nasty. We had clean clothes. All the relatives, we lived together. It was like a little community down there like you'd have up in the mountains. Everybody knew everybody in that community."
Bill is on his bike in the foreground.
"Back then, we didn't care what nationality you were or what color. We all got along. You'd go out and get into a fight right now, then later on that night, you were all sleeping on a pallet or in a bed together. It didn't make no difference. You all ate at the same place. If momma cooked something or grandma cooked, or whoever cooked, everybody ate. We didn't care who you were or where you came from. Even the – they called them hobos that used to ride the trains and such – momma and grandma even fed them."
Life could be hard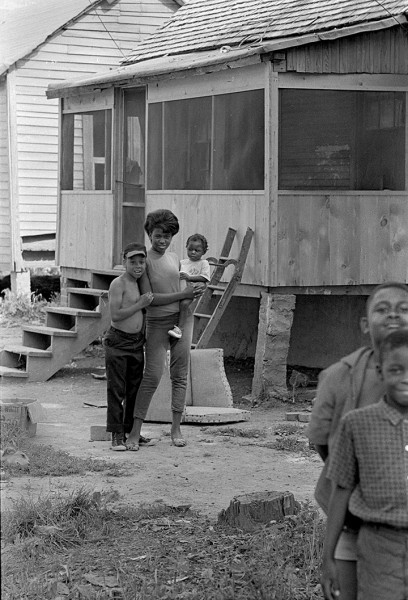 "We had the community pump. Later on in life, we actually had running water in the house, once we ran lines into the house. We still had wood stoves. We didn't have any propane gas or anything like that. We always moved up north for the floods. Then, when the river went back down, we went in and scrubbed the floors and walls, threw the snakes out and rebuilt what had to be rebuilt to make it livable."
Looking back at the pictures, he said, "brings back memories. After so many years, you don't remember, but once you start back looking, yeah, it brings back memories of where we come from and where we are today. You know, what we went through to get where we're at."
That's Bill on the left next to his cousin, Mary Jean Phifer. The baby name is unknown. The two boys at the right are Mark Turner, Margaret Turner's twin brother, and "Jim Dandy" Wren.
Other Smelterville stories