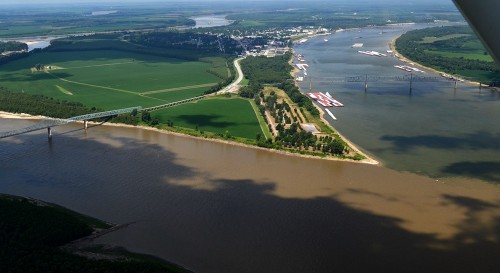 There was some discussion on a Facebook group about the confluence of the Mississippi and Ohio Rivers at the south end of Illinois at Ft. Defiance. That's been one of my usual stops every time I've passed through, going to or from Cape.
Pilot Ernie Chiles and I picked a bad day back in August 2014 for this particular project: we couldn't shake the clouds that kept covering the mingling of the waters. In this photo, the Mississippi is the brown mass snaking from the left side of the frame and crossing across the bottom. What's left of Cairo is in the top middle. The bridge carries traffic from Illinois to Kentucky.
The Muddy Mississippi is higher than the Ohio and it's "holding back" the greenish waters of the river on the right. Click on the photos to make them larger.
Pushing the Ohio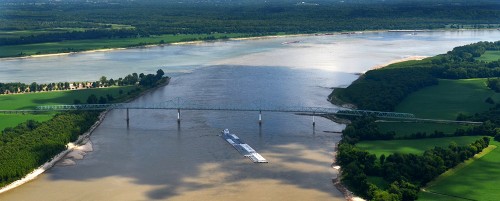 The view looking down the Mississippi shows the muddy water pushing the Ohio way over onto the east side of the river. This bridge links Illinois to Missouri.
Southernmost point of Illinois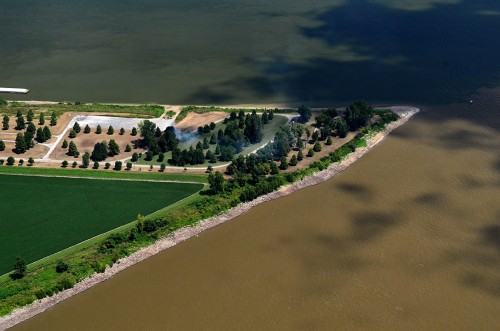 That tiny point of land is as far south as you can go in Illinois. The Mississippi is at the bottom, and the green Ohio, looking almost like a field of grass, is meeting it at the top.
War of the waters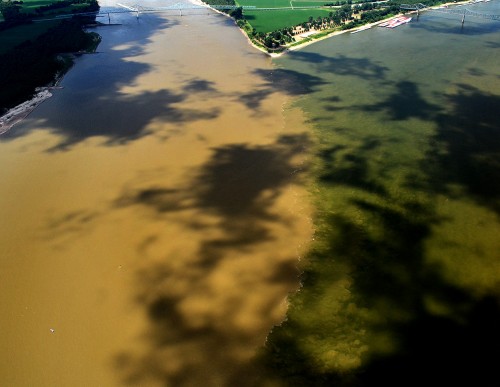 The intersection of the two rivers is a bit roiled because a tug steaming northbound up the Mississippi stirred things up.
That's why it's called The Big Muddy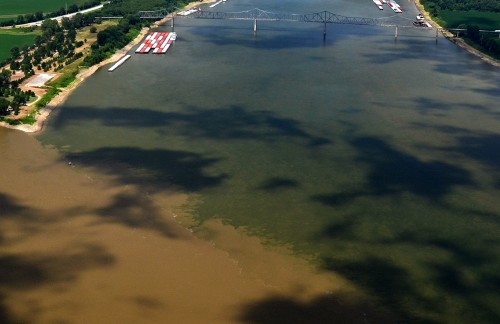 The Mississippi is divided into three regions. This marks the beginning of the Lower Mississippi. Surprisingly, at the confluence, the Ohio is the bigger river at this point, based on flow, with it's long-term mean discharge at Cairo being 281,500 cubic feet per second. The Mississippi, measured just upriver at Thebes, is 208,200 cubic feet per second.
On this day, though, the Mississippi was higher and dominant.
You can see two of my favorite Ft. Defiance photos here. One was taken in 1968, the other in 2010.