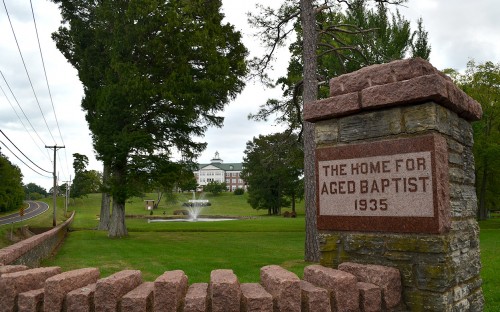 Mother and I were cruising around looking for the Johnson's Shut-ins and Elephant Rocks State Parks, when we came around a curve leading into Ironton and saw this magnificent building and grounds. A gatepost marker proclaimed it to be "The Home for Aged Baptist 1935." Click on the photos to make them larger.
Cypress knees and walkways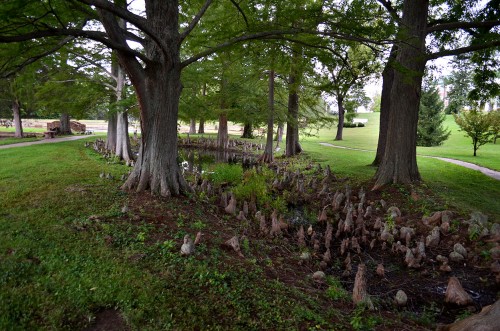 Mother said she could remember coming here to visit folks from Advance years ago. The grounds looked like a park with a small waterway, cypress trees, and walkways.
Light on history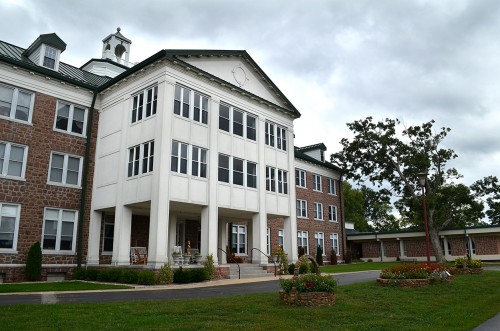 I thought it would be easy to find information on the place, but the search was complicated by a name change. It became "The Baptist Home" in 1977.
A Baptist Home newsletter from 2006 said that wealthy businessmen from St. Louis built summer homes in Arcadia Valley in the late 19th and early 20th centuries. When one of them, R.L. Lewis, died in 1819, his widow sold the 175-acre estate for $15,000.
Legend has it, the newsletter continues, that Dr. Milford Riggs stood on Sunset Rock atop St. Francois Mountain years earlier and envisioned the exact spot where the Riggs-Scott building was completed in 1923.
Time line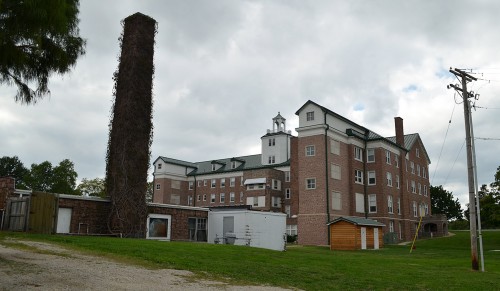 The Baptist Home website lists these key dates in the history of the institution
May 6, 1913: First Home in Ironton opens its doors
1917: Home recognized by state convention
1919: 175 acres purchased for future Home in Arcadia Valley
1923: new Home completed
April 1935: Home is sold on the courthouse steps
June 1935: Home is purchased back "for $1 and other considerations"
1972: Superintendent reports "no indebtedness on any Home property"
1977: Legal name changed to "The Baptist Home"
 Rates
A two-room / one bathroom suite is available for $500 a month
A two-bedroom / two-bath chalet would be $850 a month
A two-bedroom / two-bath cabin goes for $1,300 a month
A nursing care room would cost $5,018.75 a month
Fortunately, I've not needed to price those services, so I don't know how they compare with Cape or Florida prices.