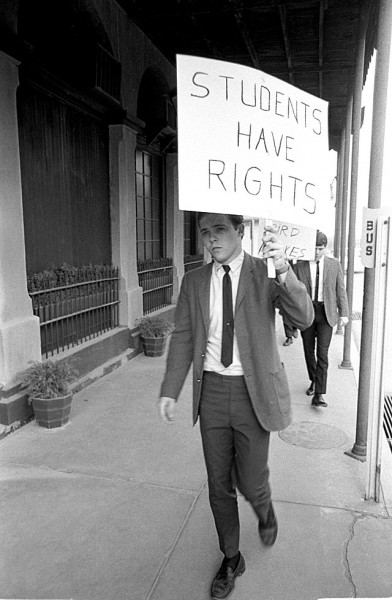 Southeast Missouri State College wasn't exactly a hotbed of political activism when I was there. You didn't often see students carrying protest signs, particularly on Broadway.
I imagine Editor John Blue looked out his office window on the second floor of The Missourian, saw these young hooligans walking with picket signs in front of the Petit N' Orleans restaurant, and immediately dispatched his Campus Correspondent (Yours Truly) to find out what the firebrands were up to.
Pickets: N' Orleans not fair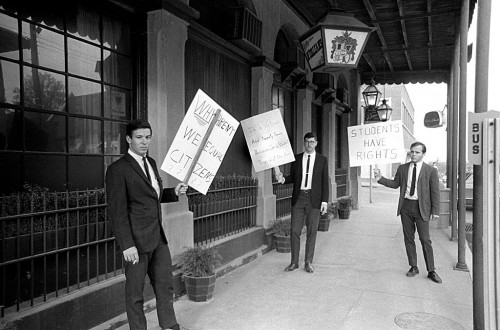 Despite my riveting art, The Missourian didn't run any photos. The story of the N' Orleans Protest ran on Page 3 of the April 8, 1967, paper, below the fold with a one-column headline:
Pickets Claim
N' Orleans Not
Fair to Some
The story said that "at one time, eight persons marched with signs bearing such slogans as 'Students Have Rights,' and 'Faculty, Support Your Students.'
"However, the number in the line was reduced to three after a Cape Girardeau police officer arrived and talked to the picketers. He explained that more than three pickets constitutes unlawful assembly."
Owner alleges students were unshaven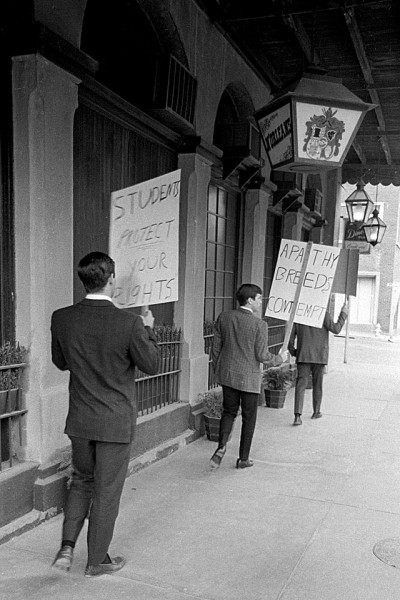 "Richard H. Barnhouse, proprietor of the restaurant, said that some students had been refused service because they were not properly dressed and were unshaven.
"The students who marched in the picket line Friday, though, were neatly dressed with coats and ties and were clean shaven."
[Editor's note: I made a typo in the quote above and said the students were "nearly" dressed. I can't believe one of you didn't catch it. I've changed it to "neatly." Much less interesting.]

I don't know if it'll reproduce on the screen, but one of the signs read, "I'm a Veteran and twenty-four. Because I'm a Student, You shut the door."
N' Orleans in 2009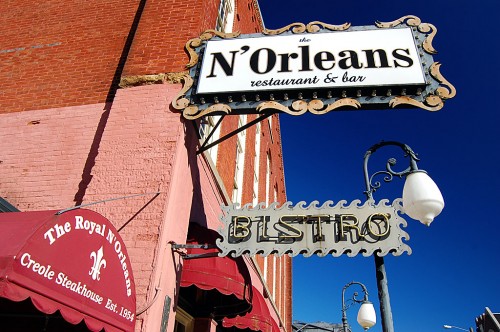 The restaurant was involved in some sort of controversy and was closed, I think, when I shot it in the fall of 2009. I didn't pay much attention, because it wasn't one of my hangouts. I don't recall ever eating there.