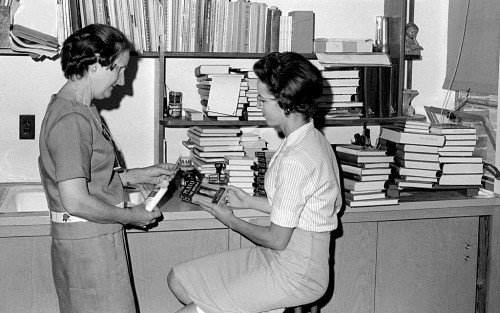 Cape Central High librarians Mildred Vogelsang, left, and Bonnie Wilkening work on a stack of Plato's The Republic.
In case you've forgotten, The Republic is a Socratic dialogue written around 380 BC concerning the definition of justice and the order and character of the just city-state and the just man. I'd like to tell you that I knew that off the top of my head, but that's why Al Gore invented the Internet. (Click on any photo to make it larger.)
Who will take the pictures?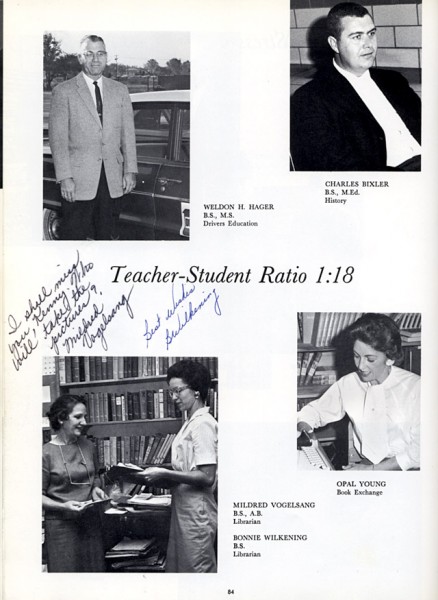 Both women signed my 1965 Girardot yearbook. I got a "Best Wishes" from Mrs. Wilkening, but Miss Vogelsang penned, "I shall miss you, Kenny. Who will take the pictures?"
The short answer to that question was the young whippersnapper who followed me: Richard Neal, Tom Hopen, Skip Stiver and Steve Trickey, but I thank her for asking.
A Google search for information about Bonnie Wilkening came up pretty dry. There was a Missourian Sept. 29, 1999, feature, a collection of "You're from Swampeast Missouri if…" contest entries that included a Bonnie Wilkening contribution, "You update your white styrofoam dice hanging on the rear view mirror of your car to fluorescent orange." I don't know if it's the same person.
Miss Vogelsang died in 1997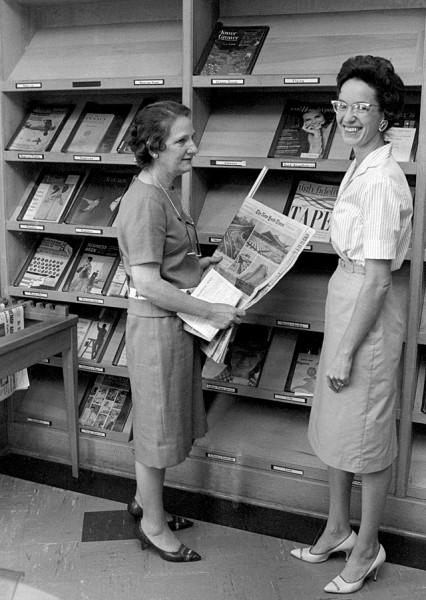 The Missourian's Oct. 31, 1997, obit reported that Mildred Wilhemina Vogelsang, 87, a former teacher, librarian and historian, died Wednesday, Oct. 29, 1997, at Cape Girardeau Residential Care Center. She was born Feb. 7, 1910, in Cape Girardeau, daughter of Henry H. and Hermena Christine Geldmacher Vogelsang.
Vogelsang [This is a departure from the obituary style we followed in my day. We would have used Miss Vogelsang.] was a graduate of Southeast Missouri State University, and received a master's degree in library science from Vanderbilt University in 1946. She was a teacher in Cape Girardeau Public Schools from 1934-43, then was librarian at Central High School until 1972.
In 1953 she served as president of School Librarians of Southeast Missouri District when it was first organized. She worked on the curriculum committee in the State Department of Education to prepare a Guide for School Libraries. She served as the president of the Missouri Library Association in 1967.  Vogelsang served three terms as trustee of Cape Girardeau Public Library, had been librarian with Historical Association of Greater Cape Girardeau, and was an historian of Old Lorimier Cemetery. She was a member of St. Andrew Lutheran Church.
Survivors include a nephew, James Vogelsang of Cape Girardeau; and a niece, Jane Schueltz of Toledo, Ohio.
Other stories about Miss Vogelsang and libraries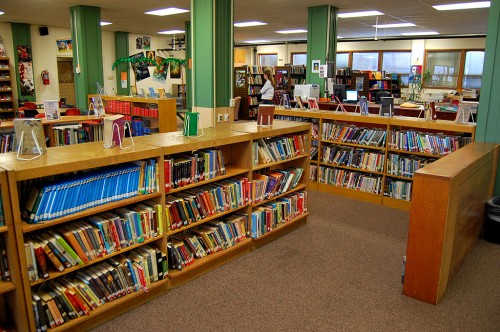 The photo above was taken in Central Junior High School (our old Central)