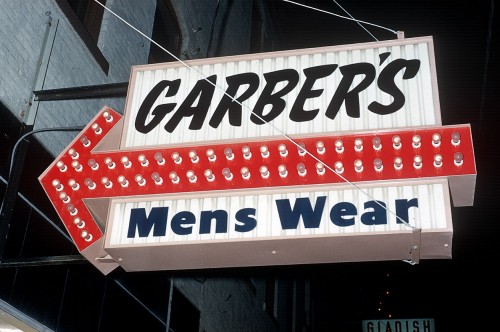 Terry Hopkins' box of his dad's General Sign Company photos produced this Garber's Men's Store sign. Peeking out from the bottom is "Gladish," which would have to be Gladish-Walker Furniture Company. I was trying to figure out where the store was located, but more about that later.
Garber's founded in 1954
The Missourian's A Century of Commerce had these business notes for 1954:
Lester Rhodes bought Orpheum Theater Building on Good Hope Street to convert it to business use.
Rigdon Laundry's equipment was sold to Tipton's Whiteline Laundry Inc.
Sunset Motel on Highway 61 North was sold to St. Louis investors.
Charles Garber founded Garber's men's store.
Star Vue Drive-In Theater, large enough for 600 parked automobiles, opened.
Pletcher & Haynes Sinclair Service Station opened on Highway 61West.
Hobb's Grill No. 3 on Broadway, formerly Wilson's Cafeteria, opened.
Cape Manufacturing Co., North Main Street, handling Maxine equipment, was incorporated.
Moved to Town Plaza in 1960
There was a lot of activity in 1960:
Charles N. Harris founded Atlas Plastics.
B & J Refrigeration opened as partnership between Marshall Bailey and Leon Jansen; later became Jaymac Equipment Co.
Montgomery Mobile Home Sales opened.
Pop's A & W Drive-In opened.
Professional Business Systems was founded by Lloyd Lorberg.
Charles Garber moved Garber's, men's clothing store, to Town Plaza.
The old Joseph Sciortino Grocery Store building in 600 block of Good Hope Street was razed.
Making room for parking lot, 103-year-old brick mill building on Water Street was razed.
Model Grocery closed, after serving Girardeans 39 years. The last location was at 521 Broadway.
Ruh's Market, in operation 53 years, closed.
Victor L. Klarsfeld, owner of Rialto Theater, purchased Broadway Theater building.
New 17,000-foot tower of KFVS-TV went into operation.
B.I. Howard purchased Wulfers's building on Broadway. It housed Howard Athletic Goods Co.
Gladish-Walker Furniture formed in 1932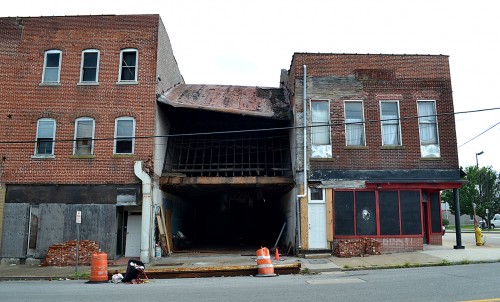 I found some ads for Gladish-Walker Furniture that said it was located at 633 Good Hope. That means that Garber's was located a couple of doors to the east in a building that was constructed at about the same time, 1880 or so based on information in the National Register of Historic Places.
I thought 633 Good Hope sounded familiar. It's because I did a story about the building collapsing this summer. Garber's would have been in the building to the left. (Click on the photos to make them larger.)
Garber's sold to Rodney and Dimple Bridges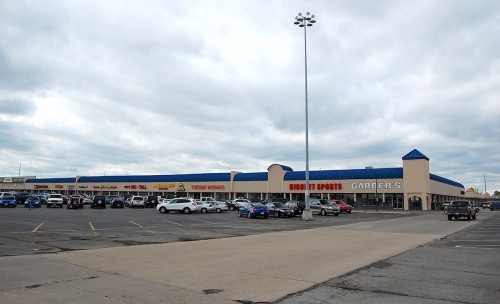 When Charles Garber retired in the early 1970s, the business was sold to Frank Hamra, who had Hamra's Men's Store in Anna, Ill. He hired Rodney Bridges, 20 and a newlywed, to manage it. A year later, Bridges and his wife, Dimple, bought the store. For more detail, you can read an interview with Bridges in the March 14, 2011, Missourian.
When Garber's was founded, Bridges pointed out, Cape had nine men's stores in town; today Garber's is the only one left. The store used to carry all the big name brands, but the chains and outlet stores have taken over that business. To survive, he said, he has to bring in lines that aren't shown everywhere. In the last 40-plus years, the store has been expanded twice and remodeled four times, increasing from 1,500 square feet to 4,300.
Garber's has a clean-looking website, showing that the store has been around for awhile, but it keeps up with the times. The shopping center photo above was taken in 2011. That space was occupied by something called Arcade in a photo in a 1962 Girardot advertisement.
I have to confess that I usually counted on Wayne Golliher at Al's Shops to put clothes on my frame.