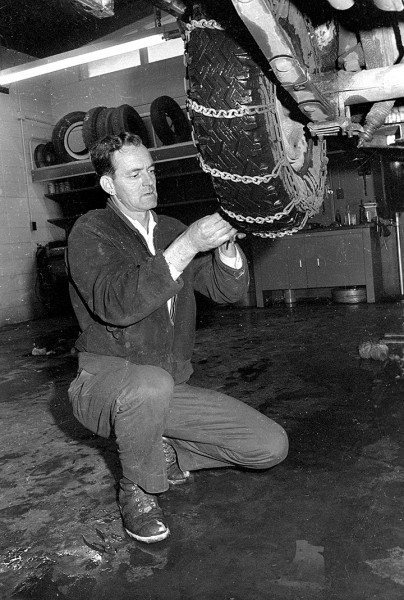 You folks are tired of looking at snow and ice, I'm sure, but this is a reminder we had snow back in the 1960s. We had less snow than Cape has gotten in the last few winters, but I think we were better prepared for it. More cars had snow tires and it was common to put chains on the drive wheels back then.
I think this might have been taken at one of the stations where The Missourian would drop off our bundles of papers. It might have been a Gulf. The press would spit out the papers in batches of 50 or 100; they would be handed off to a binding machine that would put a blank wrap of paper around the stack, then twist a thick copper wire tightly around it to hold them together. A sheet of paper with your route number on it would let you know which bundles belonged to you.
When I first started carrying papers at age 12, I had to work to untwist the copper wire to get it off my bundle. When I got a little older and little stronger, I could grab the bundle under the wrapper paper, give it a hard yank and break the copper wire. When winter came around, the station owner would ask us to save the copper wire for him so he could use it to hold tire chains on his customers' cars.
La-Petite Motel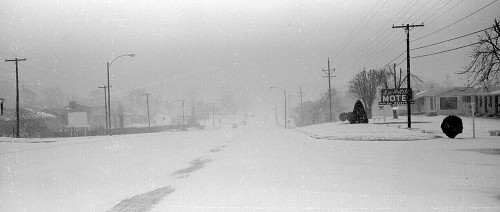 A lot of these negatives are pretty scratched and spotted up. Just pretend the spots are snow flakes. The 1968 City Directory says the La-Petite Motel was at 1301 North Kingshighway and was owned or managed by Charles and Lorraine Scheller.
Human-powered snow cleaning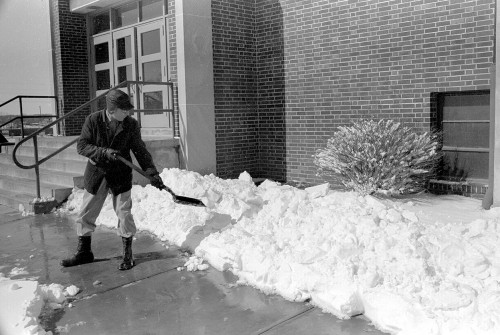 The sidewalks around Central High School were cleaned by guys with shovels, not fancy snowblowers. The fact that they are being cleaned leads me to believe school was in session, snow or no snow.
A long throw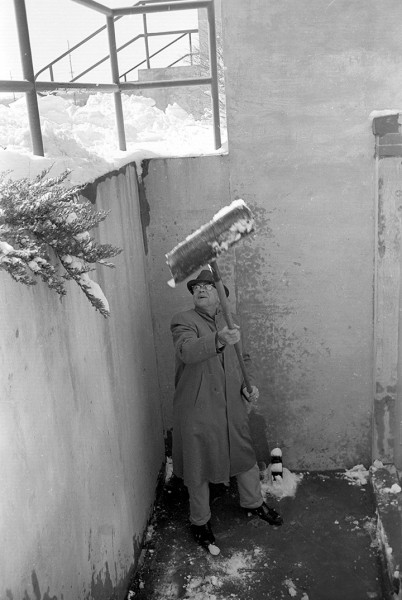 I don't know if he's shoveling out the stairwell or just breaking off overhanging snow.
Must have been a windy storm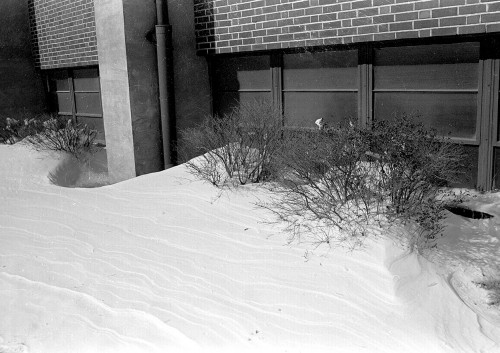 This snow storm must have had some wind with it to pile up drifts like these.
Central's basement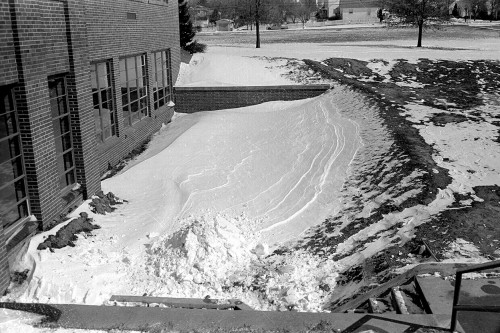 I had forgotten how they built Central's basement to be able to have windows to let light in.
Hilly neighborhood

I tried to read the mailboxes, but the letters were too small. I don't know where this neighborhood was, but it was hilly and the snow didn't have many tracks.
Out in the country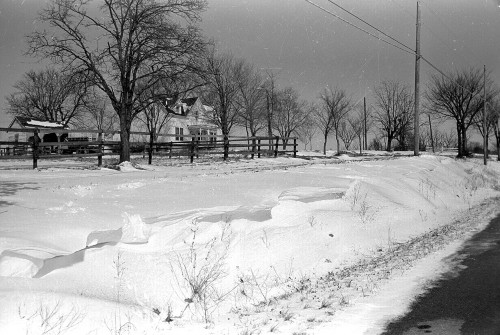 This house looks familiar, but I can't put a name or a face to it. Anybody? You can watch some 8mm home movies of snow here.
As usual, you can click on the photos to make them larger.