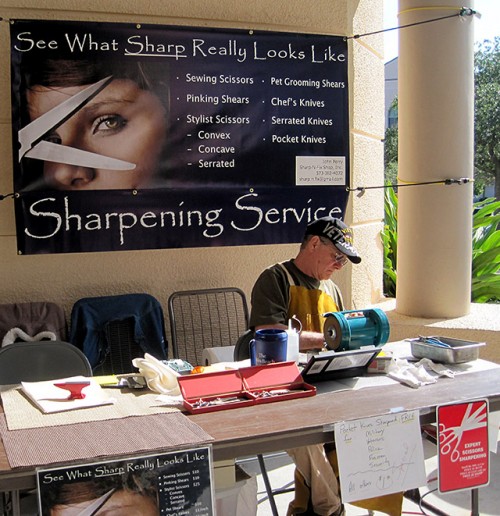 Brother-in-law John Perry was down to sharpen scissors and knives at a quilt show ramrodded by Friend Jan. We kept him busy installing vinyl siding on the house and doing other odd jobs that we save up through the year.
It turned out to be less traumatic than 2010.
Last year he had to scurry home because a tornado that went through Puxico, Mo., hit some of his wife's family's homes.
Deserved fishing trip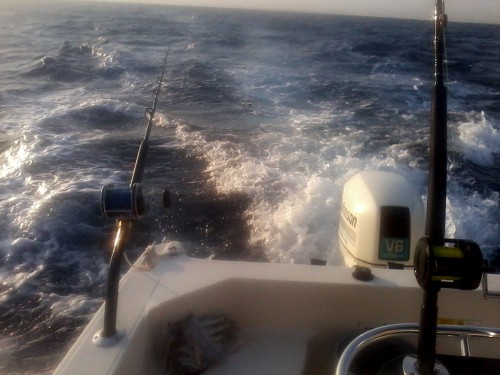 After doing all that work, he deserved to take some time off to stalk the wily fish. He and Son Wyatt had a blast in 2009 when they went off on a seafaring jaunt.
On a 2002 trip, Son Drew made such an impression on his fishing boat captain that the man sent him a copy of  The Old Man and the Sea.
He had hooked a dolphin that was at least 60-80 pounds, one of the largest the captain had seen that year. He fought the fish from 6 p.m. until well after 8:30 when it made a run under the boat and was able to cut the line on the motors.
Captain Neal Rawls of The Riggins Too wrote, "Though the fish got away, I hope when you think back on that fight you see it as the success I do… I'll always remember how your family all fought that fish together. You held the rod and fought the fish while your father pointed out the direction it was running and your mother held the spotlight….
"You are a lucky man to have a family that sticks together and without hesitation faces up to challenges together. As time goes on, if you ever feel life has thrown you a curve ball, remember that fish, and that with your parents' help, you can tackle anything."
Looking for a boat
We put out the word that we were looking for somebody who wanted to take a boat out. Son Matt hooked up with one of Son Adam's buddies we always dubbed "My Friend Jon" because that's the way Adam always referred to him. Jon Pauley's brother-in-law Matt Douglass (I THINK there is a double S at the end) was available to head out Friday morning.
"Morning" to a fisherperson means middle of the night to me, so I was content to let Wife Lila take him down to Boynton for his adventure. The alarms went off at 5:15. John and Matt were at the boat at 6:10, and out the Boynton Inlet by 7ish.
Started getting hits within 10 minutes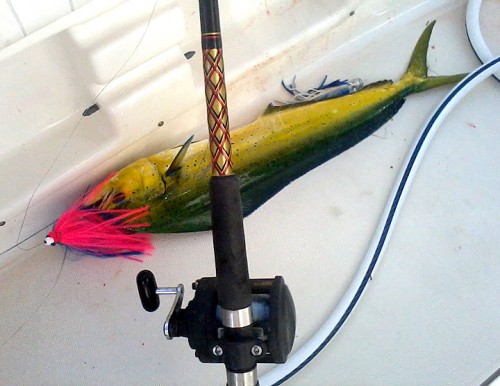 They caught the first fish within about 10 minutes of clearing the breakers, John said, "and for the next three hours we hammered them hard." They were so busy hauling in fish (and letting a few of the Big Ones get away) that they barely had time to take a tiny nibble at the sandwiches and my Cajun trail mix road food they took with them.
New Jersey in three days
We expected John to call for pickup by 11ish, but that deadline came and went. Then noon, then 1 o'clock.
I warned John's Wife Dee that the lack or arrival could be caused by several things.
They were catching so many fish they didn't want to stop.
They weren't catching any fish and didn't want to admit it.
Their engines had failed and they were on a Gulf Stream expressway to New Jersey, where they should wash up in about three days. "If they didn't catch anything, there's a good chance only one of them will make it to New Jersey: cannibalism usually starts off the coast of North Carolina," I posited.
A good day for John and Matt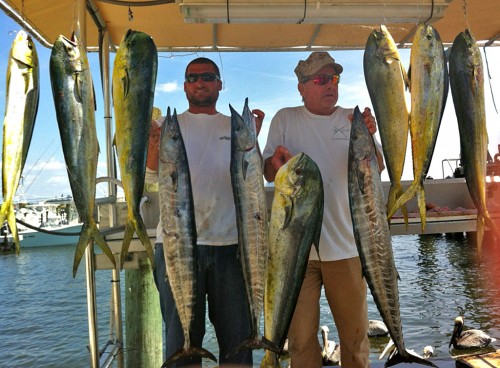 The answer was behind Door Number One. They hauled them in until "it was like someone threw a switch and they quit biting."
The duo scored seven dolphin (not the Flipper variety) and 3 wahoo. At least that many got away, John said.
The men cleaned their catch and the boat, then brought home the fish filets in coolers. Neighbor Jacqie fired up the grill and worked food magic. It was a good day for all but the fish.
Need anything sharpened?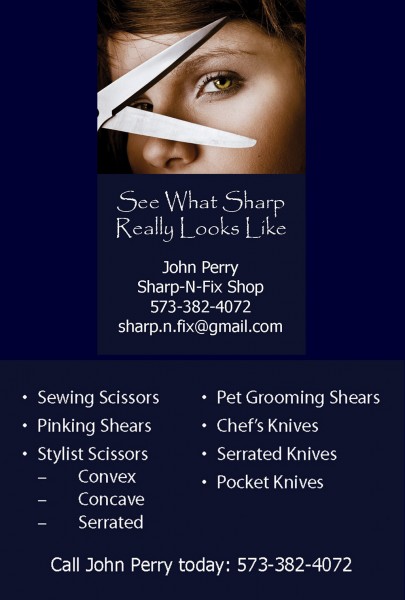 John and his sharpening equipment will be down here in West Palm Beach until March 19 if you need anything touched up. If you're in Missouri, he'll be back in your neck of the woods after that.