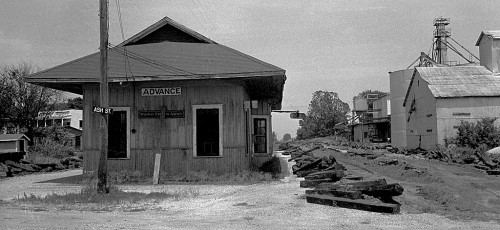 The Advance train depot was originally supposed to be located in Lakeville, described in 1875 as a "thriving town" with a population of about two hundred and all of the necessities of life in that era: a post office, a Union church, Masonic lodge, hotel, public school, general store and a saw and grist mill.
When Louis Houck extended his Cape Girardeau Railway line through the Old Field, heading south and west, though, he balked at the $30 an acre price Lakeville owner Jacob Kappler was asking.
Land in Advance was $10 an acre
Houck agreed that Kappler's price wasn't THAT far out of line, but he instructed his civil engineer Major James Francis Brooks to "advance" about a mile west near a stand of mulberry trees and lay out a new town where Joshua Maberry would sell the land for $10 an acre.
New Lakeville thrived and was later named Advance, with the accent on the first syllable. The original town dried up when it was bypassed by the railroad.
Railroad abandoned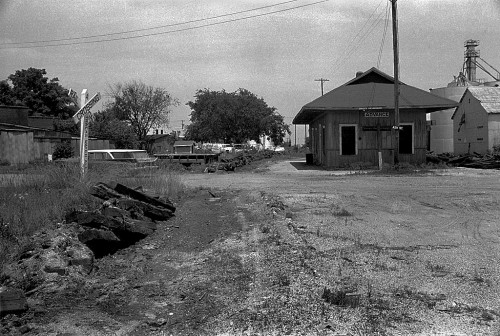 I shot these photos for a story that ran in The Missourian June 24, 1966. The first train trip on this line was made in 1881. The last was Nov. 30, 1965. The tracks which once carried as many as four passenger trains a day in the 1920s were being abandoned. The ties were sold to Vernon Lee of Puxico; most of the right of way became part of the property that it adjoined. (What a great rails-to-trails bike path that would have made.)
A Missouri Railroad Pioneer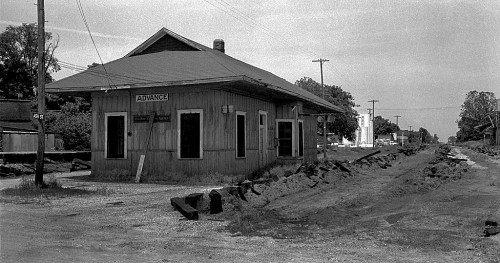 I picked up a book, A Missouri Railroad Pioneer: The Life of Louis Houck (Missouri Biography Series), when I was in Cape in the spring. I quickly set it back down when I saw it was forty bucks.
Reader, railroad buff and frequent commenter Keith Robinson highly recommended it, so I swallowed hard and bought it when I was in Cape this fall. It's a great read about someone whose name I had heard all my life. I knew he must have been important enough to have a SEMO stadium named after him, but I never realized how key he was to the development of the Southeast Missouri region. (There might not have BEEN a Southeast Missouri State University if there hadn't been a Louis Houck, by the way.)
Paul Corbin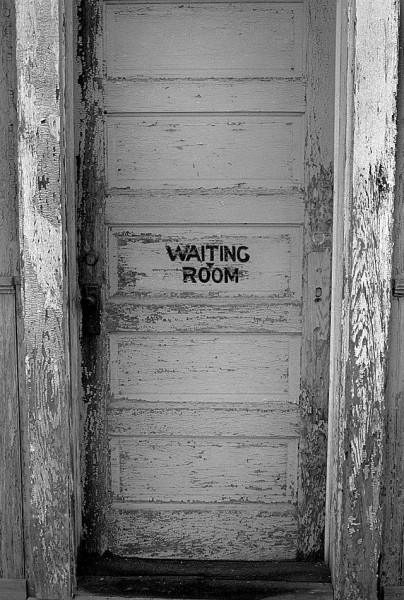 Another reader, Madeline DeJournett said I should give local historian Paul Corbin a call. We chatted a few minutes and he mentioned that Missourian photographer Fred Lynch had published some audio recordings of him talking about the railroad and growing up in the Advance area. They're worth a listen.
The old depot wasn't just a place where the trains stopped. There's a sign on the building saying that it's the Railroad Express Agency, the way you got stuff to you in the days before Fed-Ex and UPS. I had a big box of stuff shipped by Railway Express from Cape to Athens, Oh., when I was in college. (They crushed the box and I had a devil of a time getting them to settle, but that's another story.)
Another sign proclaimed that it was the Western Union Telegraph and Cable Office. I suspect it was a mail and newspaper drop, too. The Missourian used to put out an early edition for train delivery. It was a mishmash of yesterday's news, today's news and bad layouts. You had to have wanted a newspaper pretty badly to accept that one.
I'm not sure when the depot was finally torn down.