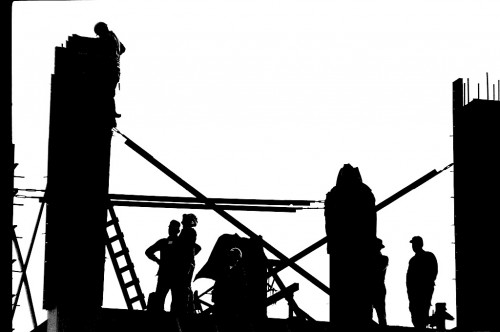 I got a lot of mileage out of a roll of film. The photos of the Notre Dame vs Central High School basketball game took up about half of it.
This photo, shot on the same roll, ran on the front page of The Missourian February 1, 1967, over the caption, "Pattern in the Sky: Workmen and structural features form an interesting and eye-catching picture in silhouette as the men go about their tasks in the construction of the addition to Kent Library on the State College campus. Open weather during winter months has enabled construction to move along at a rapid pace. McCarthy Construction Co. of St. Louis is prime contractor for the job. Contracts total $2,659,079, with additional funds available for equipping and furnishing the addition. The original Kent Library, named for Miss Sadie T. Kent, longtime librarian at the college, was constructed in 1939."
This is what we used to call "wild art" or CLO for Cutlines Only. It was a news-oriented feature photo that ran without a story. I probably shot it on the way to or on the way back from a class. Click on any photo to make it larger.
Kent Library construction workers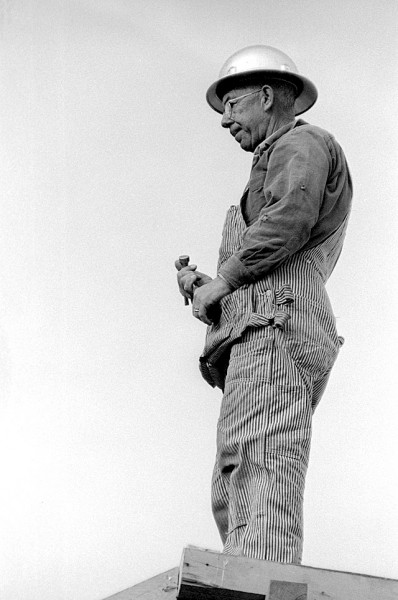 Truth be told, the silhouette was a little too cluttered to be a good photo. I think I shot it as a silhouette because I wasn't sure the photos I took of workmen on the building could hold enough detail against the bright sky. As it turns out, I like a couple of these better than the silhouette.
I like the way he's gripping his hammer, the couple of small rips in his shirt and the wrinkles in his face that show years of working out in the sun.
From an editor's perspective, though, it doesn't tell the story in one shot. It would only work if you ran multiple photos as a mini picture story. That, of course, was the method behind my madness. I was paid by the picture, so it was in my best interest to try to sell a combo package of pictures and hold back the all-in-one shot as a fall-back.
These guys built this country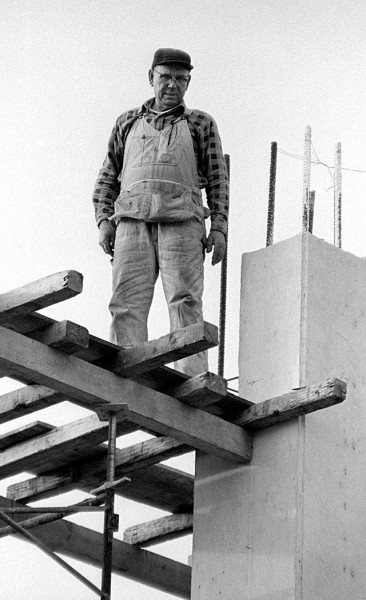 None of these guys ever got rich, but the monuments they built will live long after they are gone.
Pre-OSHA days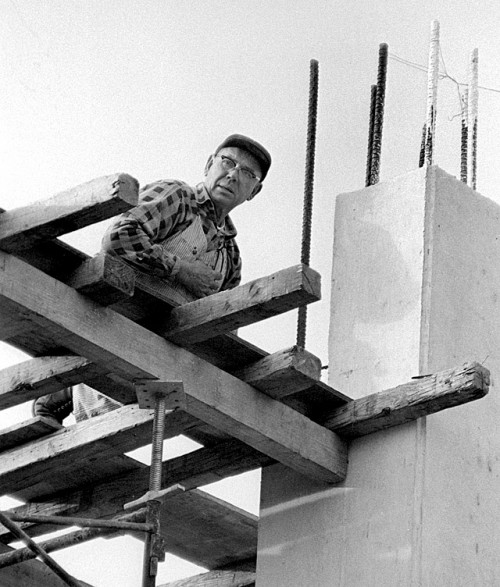 OSHA folks would get cranky these days over rebar without safety caps, scaffolding without guardrails and workers without hard hats and other safety equipment. That's not to say those aren't good things. Those pesky regulations were enacted to make a dangerous job just a little bit safer. Construction work exacts enough of a toll on its human engines without adding in accidents.
Other Kent Library pictures
What in the world is happening?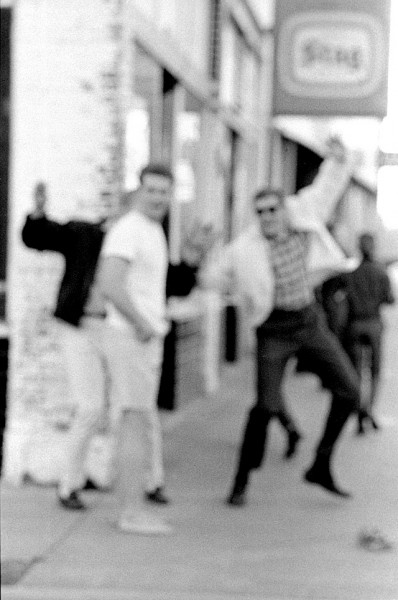 OK, not every photo works. I have no idea who these folks are, what they were doing or why I pushed the button. I didn't have time to focus and I only got one frame off. They're not paying any attention to me, so whatever they're reacting to is down the street.
It has the feel of Water Street about it, maybe down around the Sportsmans Club.
Another single shot mystery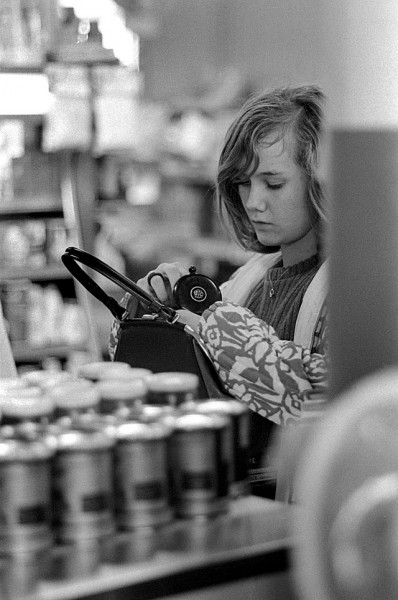 Here's another single frame. A young woman reaches past her compact to dig for money to buy something. I don't know she is, where she was or why she caught my eye enough for one frame, but not to follow up with more pictures.
So, that's a lot of mileage out of one roll: a basketball game, a construction site, some wild and crazy guys on the street and a woman shopping. Toss in a car wreck, a service club meeting and a school feature and it would have been a regular old day as a newspaper photographer in a small town.