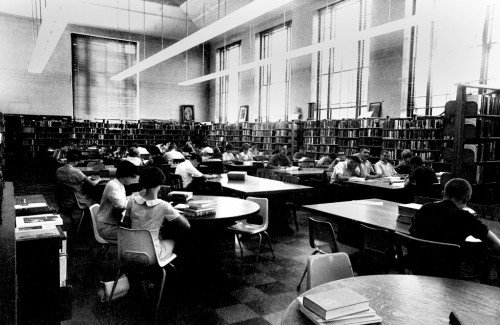 I'm publishing these two grossly underexposed, dust-spotted and scratched frames of Kent Library because they may be the only two shots I have of the inside of the place.
Don't get me wrong. I love libraries. I spent hours in the Cape Library as a kid. Pat Sommers, my debate partner, worked there, so we could get in after closing time to do research.
I took an elderly next door neighbor to the West Palm Beach libraries every Saturday. We'd leave with armloads of books that we would trade off until our next run. Wife Lila even worked in a middle school library for years (except it was called a media center in modern-speak).
Kent Library never felt like home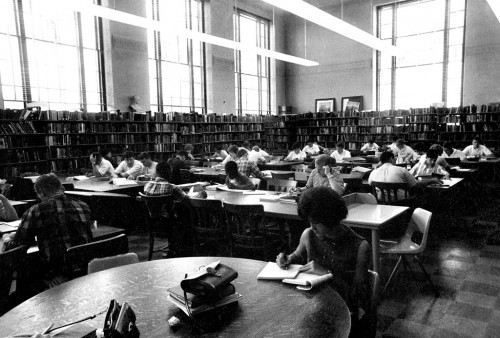 For some reason, I never developed any kind of connection with Kent Library. It didn't have the right feel for me.
On one of my trips to Cape last year, I strolled through the place. It's a lot bigger and brighter than I remembered it.
I happened to pass by a room that mentioned something about special collections or something like that.  I stuck my head in, introduced myself to someone, described the photos I have of the era and asked if there was a chance the University might be interested in them when I go to that final Big Darkroom.
The person I talked with took my business card and said someone would get back in touch with me. Nobody ever did.
I guess it's no great loss. I didn't hang around there when I was alive; whatever spirit of mine that clings to my old negs probably wouldn't feel comfortable there after I'm gone.