I see in The Missourian that The American Queen has stopped in Cape again. I shot her when she paused there July 7, 2013. You can click on the photos to make them larger.
Ambassador of the Boat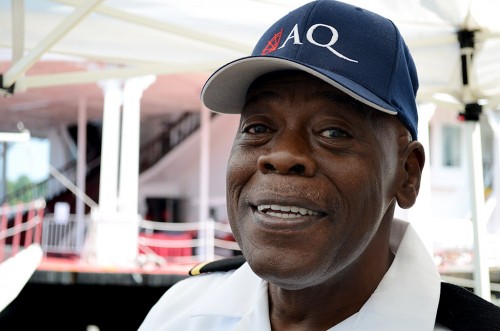 There's a security checkpoint at the gangplank to keep non-passengers from boarding. I'd like to nominate this guy as Ambassador of the Boat. He's the crewman who has to tell folks, "No, you can't tour The American Queen" and to answer hundreds of dumb questions from guys like me (and worse).
I looked at his name badge and said, "Your name is Ronald Watchman, right?"
"No, Watchman is my title; my name is Ronald Moore." Watchman Moore retired from the Memphis fire service after more than three decades as a firefighter. After about a year, he was bored with retirement and applied for a job on The Queen. He was hired almost immediately as a porter.(A percentage of the crew must hail from the home port of Memphis.)
After a short period of time, the captain called him aside and said that his skills were being wasted as a porter, and he was promoted to work security.
He's a good-humored fellow who enjoys chatting with people and seemed to know every passenger by sight. It was clear from the way they spoke to him that he was well-liked. If he's typical of the rest of the crew, service must be first-rate.
"I'm a character"
Passenger Lesa Knight, center, said, "I'm a character."
"Most folks I run into are characters, so I'm not surprised." I replied.
"No," she protested, "I'm REALLY a character. I wear a penguin costume at the St. Louis Zoo."
I couldn't argue with that.
Bikes on board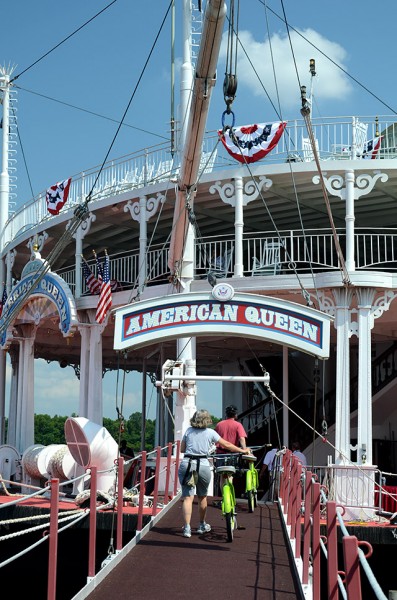 I spotted several fluorescent green bikes on the streets in Cape. It turned out that they were bikes carried on board for the passengers to use when the boat docked. I asked one passenger who was returning to the boat how he liked climbing the Broadway hill. He admitted that he had walked up the hill, but it was worth it to be able to see some of the landmarks in the Tour of Rush brochure.
I should have confined our conversation to biking. He didn't share Wife Lila's Uncle Ray's opinion of Rush as a "horse's patootie."
Tour buses followed The Queen to all if its stops to take passengers sightseeing and shopping. If a passenger literally "misses the boat," it'll haul them to the next stop so they aren't left on the riverbank, Watchman Moore said.
American Queen built in 1995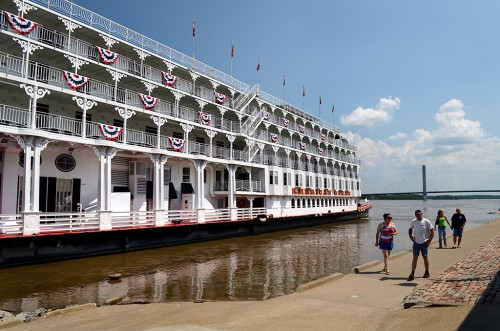 I was surprised to learn The American Queen was built in 1995. It reminded me of the Delta Queen docking in Cairo in 1968.
The company that built it went under (a bad choice of words for a steamship company), and it was laid up until 2008 when it was refurbished. Most of the reviews I read were gushingly favorable, but a few folks weren't happy with various things on their cruises. It seems like most of those were in the early days when service and mechanical issues were being worked out.
Some folks can find fault with anything. The boat has to take on water from the shore more often than fuel. One of the last things the crew did before shoving off was to disconnect the hose feeding Cape water into the storage tanks. A non-passenger on the shore commented, "I'd never sail on that boat. I saw them drop the water hose into the river when they were pulling it in."
"Do you realize that up until recently all the drinking water in Cape came out of that river?" I asked.
Stacks lower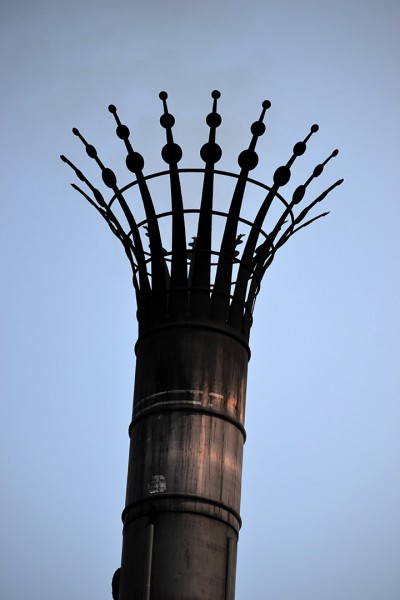 Because the level of the river fluctuates, some stops have to be bypassed when the water is either to high or too low to dock. The stacks are designed to lower if they need clearance to go under some bridges.
Rooms open onto decks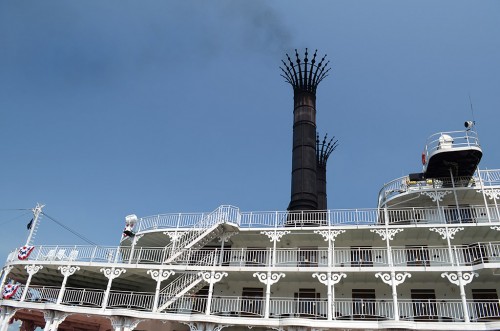 Some of the cabins have private balconies, but most of the reviewers liked being able to walk directly out on the decks to mingle with other passengers.
Boat has elevators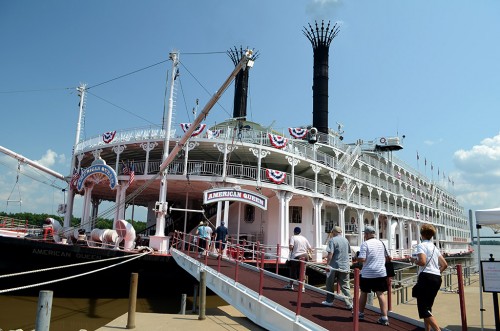 Unlike early riverboats, The American Queen has elevators to make the boat handicapped accessible. Since it sounds like there are a lot of passengers in their 70s and 80s, that's important. Getting onto and off the boat can be a bit tricky for those with mobility issues, the review warned.
Good view from the top decks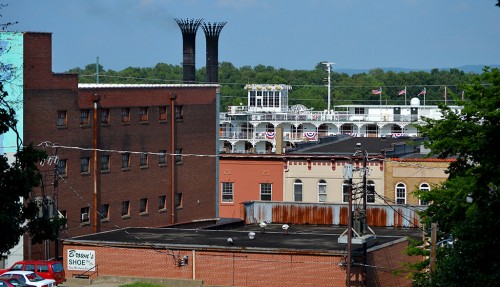 This view from the Common Pleas Courthouse shows how The Queen towers over many of the downtown buildings.