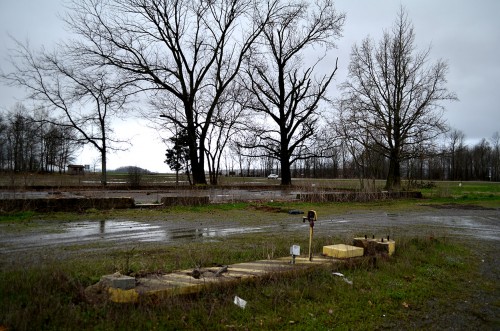 While searching for another story, I started seeing ads for dances to be held at the Dutchtown Tavern at Dutchtown, Mo.
I asked Mother if she knew where that might have been. She said it was really down in Bloymeyer, just north of the roundabout and south of what's left of the old Montgomery drive-in. She also said it was long gone.
A January 27, 1954, Missourian spot promoted Ray Nunnally and His Melody Boys; the Schwach Bros Trio, and  Blackie Palmer and His Ozark Buckaroos. There was going to be a hot July 12, 1957, dance at the tavern when The Blue Rangers played.
Might have been a gas station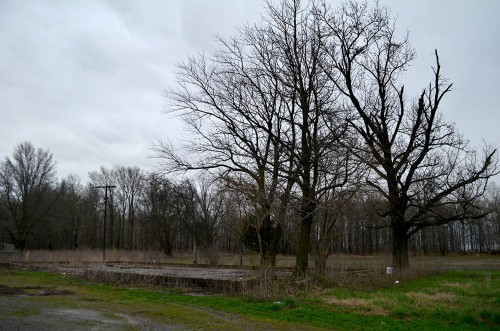 It was a cold, rainy day when I went to check this out. My contract says I don't get wet, go hungry or lift heavy objects. Getting out of the car would have violated two of those provisions; three, if you count the photographer as a heavy object.
Mother wasn't sure this was the right location, but the foundation looks big enough to have been a dance hall. On the other hand, the concrete island makes it look like it could also have been a gas station on some point in its life.
Raymond Ford Jr.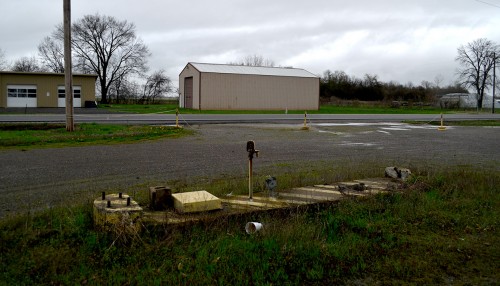 Raymond John "Tiny" Ford, 85, of Cape Girardeau died Monday, Oct. 21, 2002, at his home, The Missourian reported in an October 22, 2003, obituary.
He was born Sept. 29, 1917, in Cape Girardeau, son of Raymond John and Catherine Rogers Ford Sr. He and Lucille Virginia Griffaw were married Oct. 5, 1938, in St. Louis. She died Oct. 18, 2001.
Early in his career, Tiny Ford worked as a machinist, riverboat mechanic, and professional boxer. He moved to Fresno, Calif., where he worked at various jobs, owned a tavern, and was a lumberjack in Oregon. He continued to box professionally along the West Coast.
Operated regional bars and nightclubs
Upon returning to Cape Girardeau he owned and operated several regional bars and nightclubs, including Tiny's Danceland, The Jamna, The Ozark Corral, Dutchtown Tavern, and Edgewater Bar.
He established Ford's Booking Agency in 1956. Tiny sponsored and worked with The Golden Gloves organization in 1955 and 1956, and helped organize and was president of Babe Ruth League in 1957. He was a member of St. Vincent de Paul Catholic Church.
Survivors include two sons and daughters-in-law, Michael "Mike" and Beckie Ford of Cape Girardeau, Ray "Butch" and Carol Ford of Chesterfield, Mo.; a daughter, Patricia "Patty" Ford of Cape Girardeau; a brother, John Ford of Cape Girardeau; a sister, Irene Richardson of Cape Girardeau; five grandchildren; and eight great-grandchildren.
He was preceded in death by his wife, parents, stepmother, a brother, and two sisters.