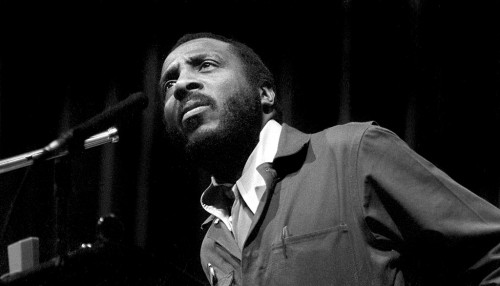 With all of the controversy about whether or not Cape Girardeau's Rush Limbaugh should be in the Hall of Famous Missourians, I stumbled across a Show Me state resident who deserves a nomination – Dick Gregory. I was looking for something else the other day and stumbled across these photos of Gregory speaking at Ohio University in 1968.
I was surprised to find that (a) he was from St. Louis and went to school at Southern Illinois University and (b) he was still alive.
The Black Mort Sahl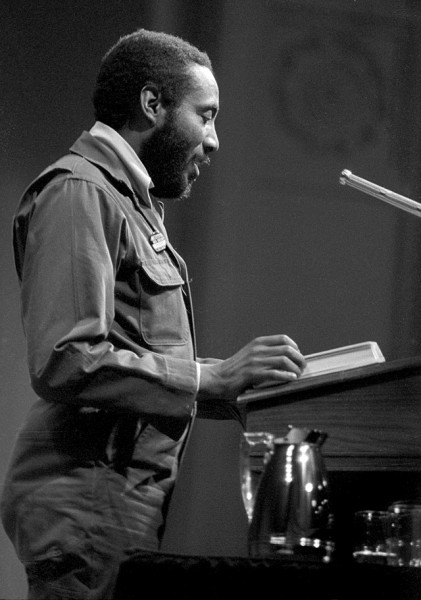 The biography on his website says that he was African American comedian and civil rights activist whose social satire changed the way white Americans perceived African American comedians.
He was part of a new generation of black comedians that includes Nipsey Russell, Bill Cosby and Godfrey Cambridge. They broke with the minstrel tradition, which portrayed blacks as stereotypes.
Gregory, who had a dry, satirical wit, came to be known as the "Black Mort Sahl." (Friends of Gregory would refer to Sahl as "the White Dick Gregory." I was fortunate to cover Bill Cosby when he played Ohio University at about the same time.
"Nigger" was best-seller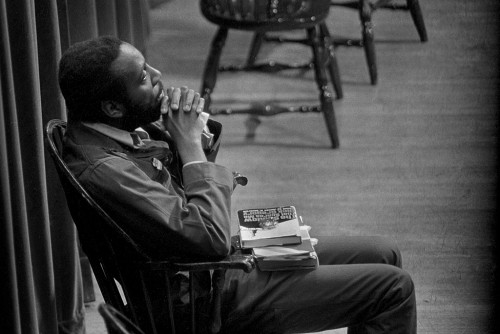 I bought his autobiography, Nigger, when it was published in 1963 (when it was on its way to becoming the number one best-seller in the country), but I never felt comfortable walking around with the cover showing, even though he explained in his forward that he had written a note to his mother saying, "Whenever you hear the word 'Nigger,' you'll know they're advertising my book."
Routine impressed Hugh Hefner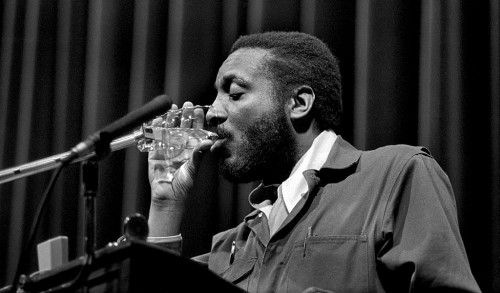 He got one his earliest breaks when Hugh Hefner heard him perform this routine in front of a mostly white audience when he had been brought in as a last-minute replacement:
Good evening ladies and gentlemen. I understand there are a good many Southerners in the room tonight. I know the South very well. I spent twenty years there one night.
Last time I was down South I walked into this restaurant and this white waitress came up to me and said, "We don't serve colored people here." I said, "That's all right. I don't eat colored people. Bring me a whole fried chicken."
Then these three white boys came up to me and said, "Boy, we're giving you fair warning. Anything you do to that chicken, we're gonna do to you". So I put down my knife and fork, I picked up that chicken and I kissed it. Then I said, "Line up, boys!"
His temporary gig at the Chicago Playboy Club lasted three years.
Gregory changed my career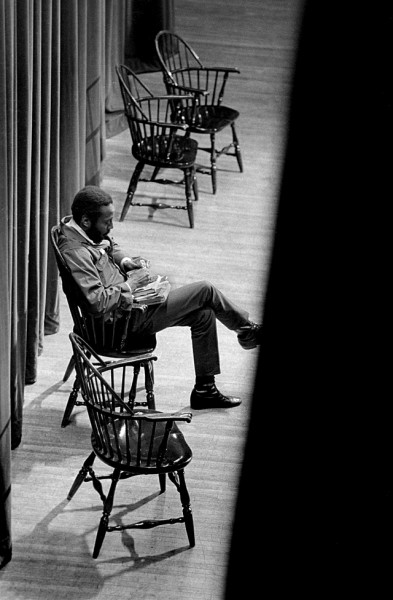 I was covering the event for The Ohio University Post. Much to my surprise, I got a call from The Athens Messenger, the local paper, asking if they could run my photo taken of Gregory while he waiting to go on. It was a surprise because I had seen photographer Bob Rogers at the press conference earlier that day, and I assumed that he must have covered the speech as well.
See, newspapers HATE to pick up something from a competitor. Now, The Post was the university student newspaper and The Messenger was the "real" paper, so we weren't exactly competitors, but I always looked to see how I had stacked up against Bob or Jon Webb when we had been at the same event.
I was flattered that they wanted the art, so I offered it up quickly. I think that's probably what led to them offering me an internship that summer. When they couldn't find anyone who would work as long, hard (and cheap) as I would, it turned into a full-time job. When Bob moved on, I became chief photographer.
Write-in Candidate for President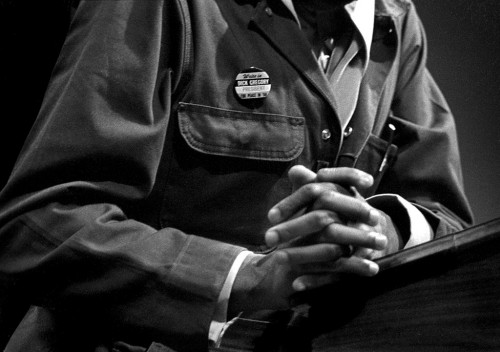 Gregory ran for president in 1968 as a candidate of the Freedom and Peace Party, a splinter group of the Peace and Freedom Party. His button reads, "Write in Dick Gregory President for Peace in '68."
I guess I can add him to the list of presidents and presidential candidates I've covered.
Standing ovation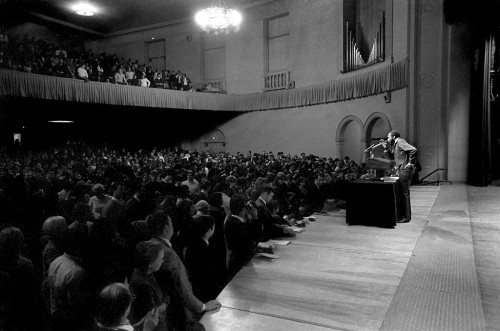 Gregory's speech was well-received by the mostly white audience. Even though I was busy shooting the event from a multitude of positions, I heard enough to be impressed by the way he managed to get his point across without stabbing anyone with it.
I think he opened some eyes that evening. Most of us hadn't heard that perspective before.
This site has an interesting collection of Dick Gregory quotes. In some he's funny; in others he's ironically angry; in others, he's thought-provoking.
Interesting body language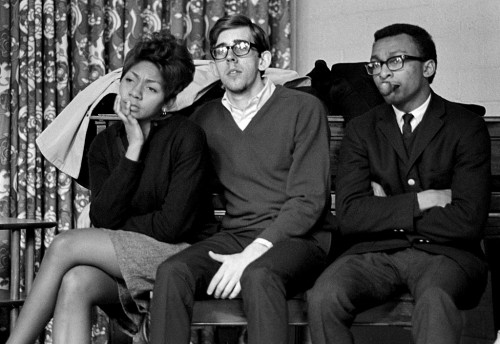 I didn't notice it when I edited the film in 1968, but take a look at the photo gallery. There's an interesting contrast in body language between the white students and the black students at the afternoon press conference.
I see a lot of crossed arms and furrowed brows. I'm not sure the black students were as receptive to Gregory's message as the white students.
Dick Gregory Photo gallery
I included a bunch of press conference photos in the gallery to show some of the folks I worked with in those days: Bob Rogers, Tom Price, Ed Pieratt and some radio and TV guys who look familiar (but we print guys didn't bother pay much attention to them). Click on any photo to make it larger, then click on the left or right side to move through the gallery.
.