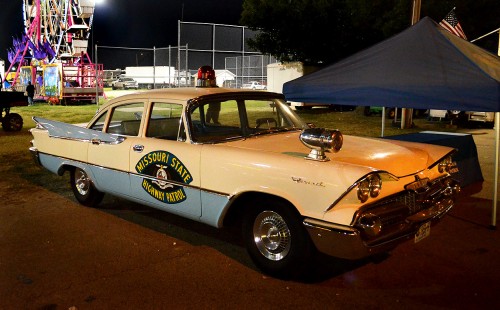 THIS is the way a state highway patrol car should look: two-tone paint scheme with a big logo on the side. Fins. Bubble gum machine on the top.
Who cares about aerodynamics when you have a big engine under the hood.
Big mechanical siren bolted to the fender. One that took several seconds to wind up to full volume, then took just as long to die out when it was turned off. That siren didn't yelp, bleat, burp or play bird songs: it had the voice of authority.
Don't forget the big 96-inch low-band two-way radio whip antenna that would go thumpa, thumpa thumpa when the vehicle stopped suddenly. Bad guys soon learned that nobody outruns Motorola.
When you look at this car, you think of Broderick Crawford growling, "Two-Fifty-One to Headquarters," not some chirpy pretty boys like Jon and Ponce on their CHIPs motorcycles worrying if the wind is going to muss their hair.
Yep, this is a car I'd rather see at the SEMO District Fair than in my rearview mirror.
Older stories and photos of Missouri Highway Patrolmen