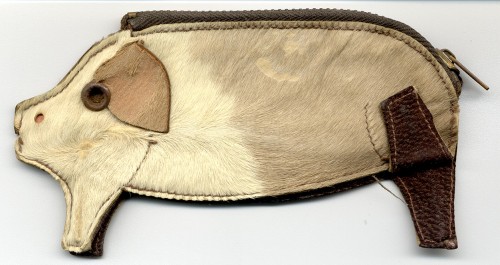 My original headline read "Stuck in the Sock Drawer," but I changed it because "Nixon" will score higher with the search engines.
Even that headline was a little misleading, because we're not going to talk about my exact sock drawer, although there ARE a lot of weird things hiding in there, too.
Many years ago, my grandmother gave me a good wooden  box that was probably supposed to hold jewelry. It's been a catchall for heirlooms of no real value, something that became apparent when our house was burgled a few years ago.
The crooks made off with some of Wife Lila's jewelry that was rich in sentimental value, but not worth much in dollars. The mopes didn't even bother to root through my box.
Maybe they feared the curse of the pigskin purse, a souvenir my grandmother, Elsie Welch, brought back from Mexico (the country, not the county seat of Audrain County, MO, where the annual Miss Missouri pageant is held) when I was about two years old.
I never had much money as a kid, so the poor pig was always pretty skinny. Now, nearly seven decades later, he still hasn't put on much weight.
Elvis Presley and President Nixon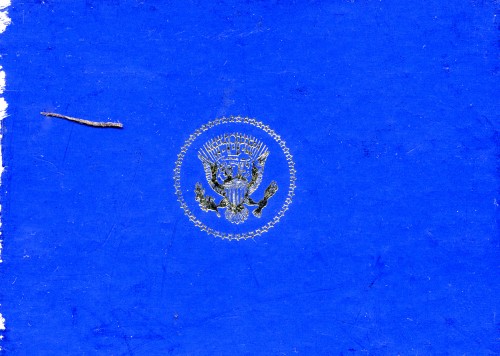 Ollie Atkins, President Richard Nixon's official photographer, was a speaker at a National Press Photographers Association conference I attended. To be honest, I thought Atkins was a pretty pedestrian photographer kept around for dull grip 'n' grin shots of dignitaries. His photos perfectly captured the wooden Richard Nixon.
One of his images, though, according to a 2012 story in The Guardian, is one of the most requested images in the National Archives and Records Administration, more popular even than the Bill of Rights or the Constitution of the United States. It's the photo of Dick Nixon and Elvis Presley shaking hands after a secret meeting in the White House.
Presley wrote Nixon a six-page letter requesting a meeting with the president and suggesting he be made a "Federal Agent at Large" in the Bureau of Narcotics and Dangerous Drugs. The events leading up to and after the meeting are detailed in the documentation and photographs included at this link, which include Presley's handwritten letter, memoranda from Nixon staff and aides, and the thank-you note from Nixon for the gifts (including a Colt 45 pistol and family photos) that Presley brought with him to the Oval Office.
Nixon cufflinks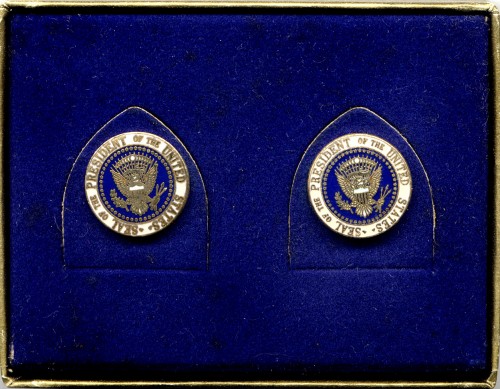 From time to time during the conference, the moderator would draw numbers for door prizes. After Ollie's presentation, he reached into the box and pulled out mine. Instead of some cool photo equipment, I was presented a pair of presidential cufflinks. That prize was especially ironic because, up until I picked Bill Hopkins to run my campaign for student body president of Central High School, I thought I might get to wear a set of cufflinks like these some day.
They have never been out of the box. When I scanned them tonight, I pulled the lining of the box out to see if anything cool, like the nuclear launch codes or something, was behind them. I am sad to report the bottom of the box was empty.
You can click on the photos to make them larger, but ignore all the white specks: I didn't bother to dust the plush lining in the box.
Matchless Nixon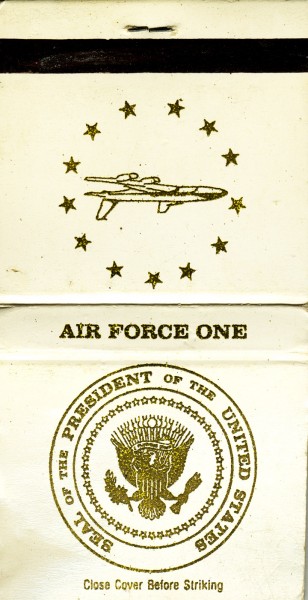 Ollie must have sweetened the pot by tossing in a box of matches from Air Force One.
I beat the devil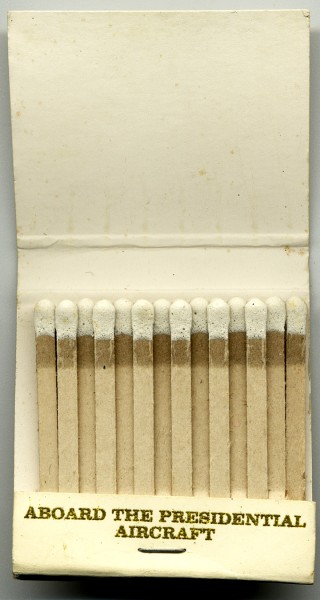 While I was looking at the unused book of presidential matches, I thought of Kris Kristofferson's song, To Beat the Devil, about a down-and-out guitar player. It contains the line, "I ain't sayin' I beat the devil, but I drank his beer for nothing. Then I stole his song."
Well, I never got to be President, but I ended up with his cufflinks and his matches.
Other encounters with Richard Nixon