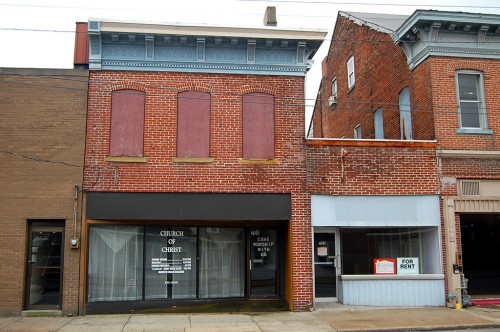 OK, not EVERY old building in Cape is interesting. That, or I just missed the good stuff in my quick search for info on three buildings on the north side of the 700 block of Broadway. These two pictures were taken Oct. 28, 2009. Based on how much turnover The Missourian documents over the years, no telling what occupies them today.
703 Broadway
March 2, 1953: Mayor Manning P. Greer is notified that team of Air Force personnel will be at U.S. Air Reserve office, 703 Broadway, this week to conduct local portion of nationwide inventory of Air Force Reservists; inventory is to bring essential data of reservists up to date and to clarify status of each reservist in event of mobilization.
Jan. 8, 2003: A convicted murderer serving prison time on an unrelated robbery charge was sentenced Monday in Scott County to two additional 30-year terms for first-degree robbery. In November 2002, a jury found James L. Woodson, 39, guilty of two Cape Girardeau robberies. Prosecutors said Woodson used a handgun to rob the Citgo convenience store at 263 Farrar Drive on Aug. 19, 1999, and a Pizza Hut restaurant, formerly at 703 Broadway, three days later.
July 22, 2011, business license issued to Silver Eclipse, 703 Broadway.
705 Broadway
Oct. 21, 1928: Juden Music Co. formally opened yesterday at 705 Broadway in building formerly occupied by Barenkamp Shoe Store; Claude Juden and Peg Meyer, latter proprietor of Peg Meyer Music Co., which has been located in New Broadway Theater building on Broadway, are partners in business; Juden will have charge of sales department for radios and phonographs, while Meyer will conduct studio in connection with it.
1997 business roundup: Gary McMillan opened Antiques With An Attitude at 705 Broadway.
Jan. 8, 2002: Police report: A window was reported damaged Sunday at Hot Wheels, 705 Broadway.
July 12, 2002: The commission approved a special-use permit for David and Patsy Alexander to operate a dog grooming business at 705 Broadway, the former location of Hot Wheels.
Nov. 11, 2002: Dana King of Poplar Bluff is moving back to Cape Girardeau and she's bringing her five dogs with her. The lifetime dog lover and owner is going to open Dana's Pet Salon at 705 Broadway, near Subway. She hopes to open the business by Nov. 25. The salon will groom dogs and bathe cats, she said. I've already been doing this for three years, working with other pet groomers in the Poplar Bluff area," she said. "Then I went to Petropolis." Petropolis is a school that trains dog groomers, where over 14 weeks you learn the basics of shampooing and a variety of styling and cutting, she explained. "It seems there are more dog owners here," she said. "We need more of that kind of service around here."
Feb. 25, 2003, Police report: Property Damage A window was reported damaged Saturday by Dana's Pet Salon at 705 Broadway.
July 19, 2010: business license to Phyllis's.
July 17, 2011, Police report: A debit/credit card machine was reported stolen at 705 Broadway.
July 16, 2012, business license to Budget Buster Furniture, 705 Broadway.
707 Broadway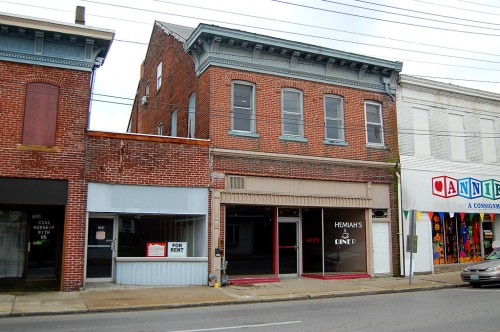 I had a managing editor who would dismiss the cop reporter's story pitch as "just a bunch of mopes." The apartments above 707 must have housed a nest of mopes over the years, because the police reports were full of people at that address getting into all kinds of minor skulduggery. Here are some more conventional business stories:
July 23, 1955: N.B. Mullen announces he has sold the Mullen Appliance Co., 707 Broadway, to Emmett Young, who has been associated with Mullen for the past nine months; Mullen will retain ownership of the building.
1999 business review: Broadway Ice Cream and Sweet Stop opened at 707 Broadway.
November 2001 business brief: The Rose of Broadway has opened at 707 Broadway. The French/American restaurant is owned by Geri Graves.
September 2005:  Featuring Cajun and Creole influences, Chez Natchez opened its doors at 707 Broadway in Cape Girardeau, the former location of Rose of Broadway. The restaurant was operated by Kathy Broussard.
Aug. 23, 2007: Nehemiah's Diner, 707 Broadway, has opened in the former Rose of Broadway location. New owners are Shauna Watson and Loyce Poole.
Dec. 30, 2010: New Life's Homeless Outreach Center and Thrift Store at 707 Broadway provides temporary housing for displaced people.