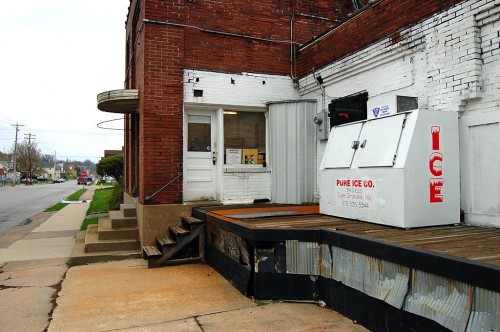 Ray Boren posted a note on two of the Central High School email newsletters that Pure Ice Co., a Cape institution since 1926 has been sold. I've always had a fascination with the place, located at 314 South Ellis, east of where St. Francis Hospital used to be.
I think it started when I'd go to work with my dad. He'd stop by when it was still dark to get ice to fill up the water cans for the job sites. The ice plant made the most delicious noise: there was the Clunk! SLLLLLLLLLLNNNNNNNNKKKKKK WHAM!! sound the ice made as it was released from the bowels of the building, slid down a chute and landed at the end. One experience was all it took for you to learn to NOT to have your fingers where the ice came down the chute.
Finally, there was the Chink! Chink! Chink! as dad chipped the 25-pound blocks into smaller pieces, using a wooden-handled ice pick with Pure Ice printed on it.
After breaking up the ice, he'd halve six or eight lemons, squeeze the juice into the water and throw the peels into the cans. "Lemon juice cuts thirst," he'd proclaim. (And, he was right.)
Photos date back to 2000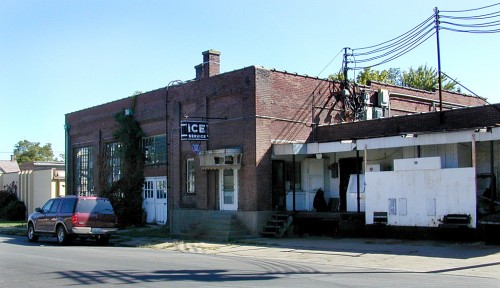 I'm not sure when I started taking pictures of the place. I shot these in 2000, 2010 and 2011. There are others, but I couldn't put my hands on them right away.
The one thing I HAVEN'T been able to do is talk my way inside the ice plant. I gave it a try this summer, but the owner turned me down because of "safety and insurance" reasons.
When I heard that the ice company had been sold, I gave Home City Ice a call to see if I could get in. Rumor had it that they weren't making ice there because the product was being trucked in from elsewhere. Surely there can't be any safety issues to go where equipment isn't working, right?
After being passed around a couple of times, I was told the Chief Financial Officer, Jay Stautberg, was out of the office, but if I left him a voice mail, he'd get back with me. I did, and much to my surprise, Stautberg returned my call within a couple of hours.
Here's a shot through the window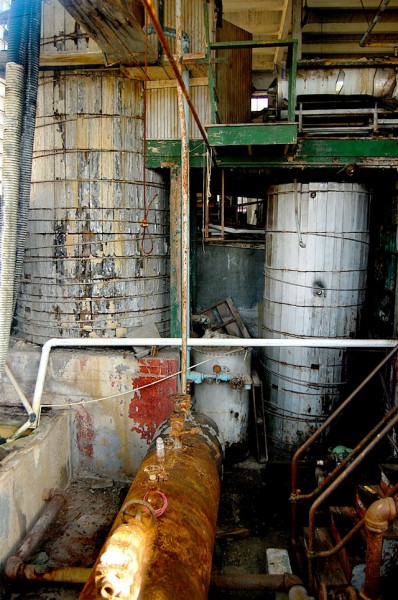 He confirmed that they had, indeed bought Pure Ice Co., but he couldn't give me the OK to shoot inside because they only bought the business and signed a lease for cold storage. The Pure Ice folks had held onto the building. Stautberg also confirmed that the ice sold in Cape was being trucked in from two of their facilities, "but I'm not in operations, so I can't tell you which ones."
All in all, he was friendly and helpful. "We're a family business and they were a family business, so we were a good fit," he said. Pure Ice signs will gradually be replaced by Home City Ice ones.
A Cape resident said the sale may cause problems for one of his friends who does ice sculptures. He needs blocks of ice weighing as much as 800 pounds. The new company, it was thought, may only supply crushed ice. I hadn't heard that in time to ask Strautberg, so I don't have an answer to the question.
Sign was for how much ice to leave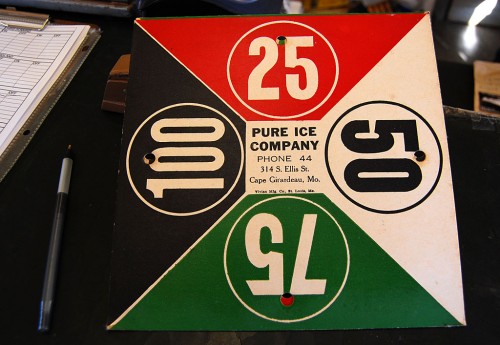 While it's true that Pure Ice on Ellis dates back to May 26, 1926, I discovered that it actually had its origin in Morrison Ice and Fuel in 1903 in a building that was just torn down for the new casino. Morrison became Riverside Ice and Fuel and was eventually bought out by Pure Ice. When refrigerators first started coming out, Pure Ice sold Coolerator iceboxes, but marketed them as a replacement for the old-fashioned wooden iceboxes (with a $5 trade-in), not as refrigerators as we know them today. Home ice delivery went on in Cape until the 1960s.
The sign above was to be placed in the window so the iceman would know how much ice to drop off. Note the phone number – 44 – only two digits.
Pure Ice photo gallery
Click on any photo to make it larger, then click on the left or right side to move through the gallery.