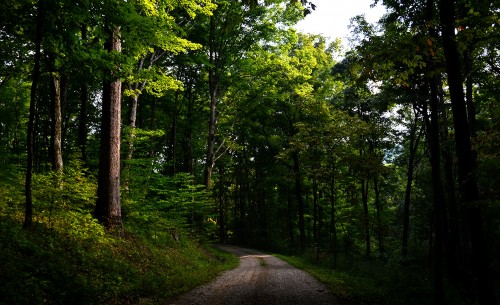 On the way from Athens to Kent, Ohio, Curator Jessica and I made many stops at cemeteries. I had to do a U-turn when I saw a simple sign marking the lane to the Ringgold Cemetery in Morgan County. The narrow gravel road with thick woods on each side was easy to miss: the kind of place you might search for if you were a teenager and it was Friday night.
When we got to the end of the lane, there was a small, well-kept burial ground with a scattering of old stones, some broken off and some weathered so much they couldn't be read. There was one recent stone that stood out from all the rest.
Barb and Butch Martin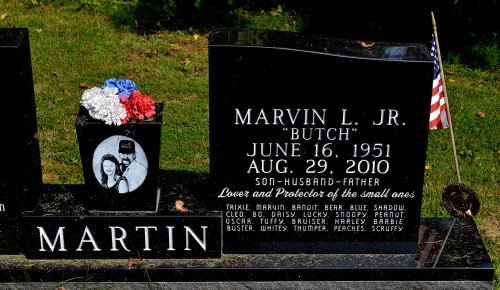 I braved chiggers to wander down to see the final marker for Barb and Butch Martin. Barb's side said she was born April 20, 1964, but the absence of a death date probably indicates that she's still with us.
Butch died in 2010. His stone says he was a son, husband, father and a "Lover and Protector of the small ones." Under that slogan was a list of 22 names, none of which sounded like ones you'd give a kid. (You can click on the photos to make them larger.)
The back of the stone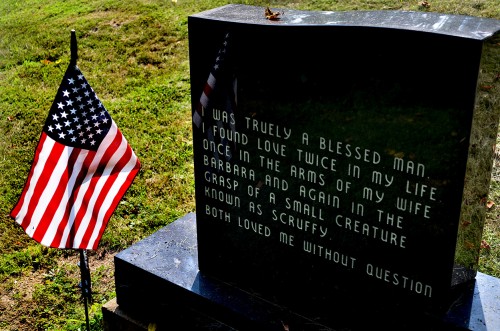 The back of Butch's stone has the inscription, "I was truly a blessed man. I found love twice in my life. Once in the arms of my wife Barbara and again in the grasp of a small creature known as Scruffy. Both loved me without question."
His obituary
Marvin L. "Butch" Martin, Jr., 59, of Malta, formerly of Columbus, passed away Sunday, August 29, 2010 at the Genesis Hospice Morrison House in Zanesville after a courageous battle with cancer. He was born June 16, 1951 in Columbus and was a graduate of Franklin Heights High School in Columbus. Butch was a veteran of the United States Marine Corp. and was a retired Maytag repair man. He was an animal lover and hunter. He loved life and the simple things, he always thought of others first. A day at the gun range was his greatest pleasure. He wanted nothing more than to live life and love his wife.
Marvin is survived by his wife of 20 years, Barbara Martin; his mother, Marie Martin of Columbus; daughter, Dusty Noonan of Wilmington, N.C.; step-son, David Cooper of Columbus; six grandchildren, Josh, Matt, Adam, and Noah Noonan, and Taylor and Jordan Cooper; two brothers, Donald and Ronald Stinson of Columbus; good friends, Roger Lemon and Tim Thompson. He was preceded in death by his father Marvin Martin, Sr. and a great love called Scruffy.