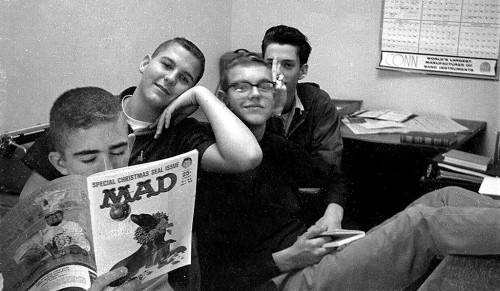 For better or worse, for once I can identify all of the people in a photo.
Steve Folsom, son of journalism teacher Betty Folsom, is reading Mad Magazine. He possessed the most unique set of eyebrows at Central High School.
I dated one of his twin sisters, Linda, briefly. (The briefly part was her choice, as I recall.) She and sister Laura weren't THAT hard to tell apart once you got to know them, but they played the Twin Game the first night I went to pick up my date. Her grandfather, standing behind them, took pity on me and quietly pointed to the right one.
Al Spradling III is next. He was a Tiger business manager.
The next two characters were my debate partners at one time or another. John Mueller and I had an undefeated season my freshman year.You can see other photos of John here.
Pat Sommers, at far right, had a propensity to declare himself Number One in almost every photo I took of him. He is a little more dignified these days. Actually, now that I think of it, I DID shoot a picture of him wearing a tie at a basketball game.
You can click on the photo to make it larger, but that'll just show up all the dust spots I didn't bother to retouch out.