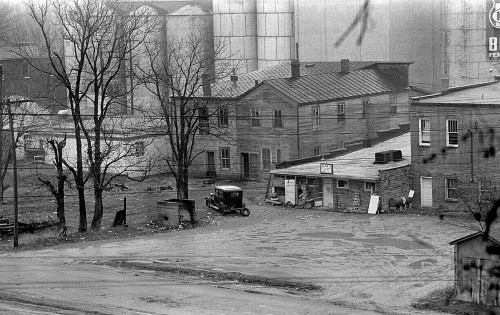 No, despite what some folks think, I wasn't around then, but, thanks to the photographers from the Farm Security Administration, we know what the country looked like during the Depression and the Dust Bowl days.
I opened an envelope labeled "St Mary," thinking I would find the church and school located on Sprigg Street. Much to my surprise, I found images of the notorious speed trap located between Perryville and St. Genevieve on Hwy 61. My best guess is that it was taken in 1966, but it looks like something from 30 or 35 years earlier. Click on the picture to make it larger. I can make out the name "Clem's" on the sign, but the rest isn't readable. What I find striking in these days of digital photography where you bang off hundreds of photos without thinking is that I thought the subject worthy of only one shot.
I'm going to hold off publishing most of the pictures until I can shoot contemporary photos on my next trip to or from St. Louis at the end of January.
I've tried to emulate the FSA photographers
This image jumped out at me, though, as something that could have been taken by one of the 22 FSA photographers working for Roy Styker between 1935 and 1944. I grew up trying to emulate photographers like Gordon Parks, Dorothea Lang, Walker Evans and Arthur Rothstein. If the names don't mean anything to you, check Google images for some American icons.
In looking for that, I stumbled across a catalog of images available from the Library of Congress. Some of the topic include Wright Brothers Negatives; Popular Graphic Arts, World War I and Spanish American War Posters; 2100 Baseball cards from 1887 to 1914, and Civil War Glass Negatives and Related Prints.