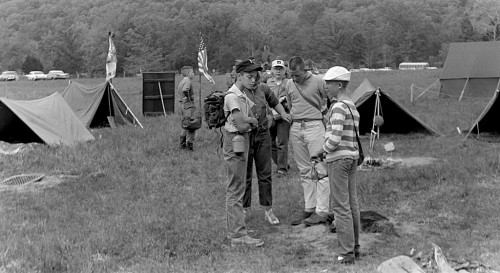 It's Scout Week, so it's an appropriate time to dredge these up. Some of these photos are of are men and boys I recognize being in Trinity Lutheran School's Boy Scout Troop 8. The negative sleeve said they were taken at the 1963 Pre-Camporee. I can't quite place where the event was held. Maybe someone else can clue me in.
I recognize a few of the boys. Two who were my age were Joe Snell and Ronald Dost.
Stan Snell, Harry Ruesler , Ralph Haman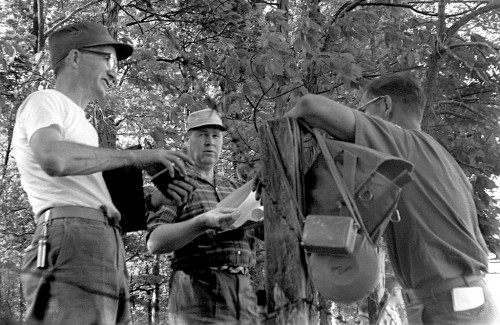 Three of the adult leaders were Stan Snell, Harry Ruesler and Ralph Haman.
Loading them up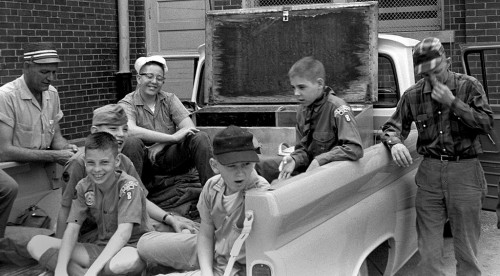 Dad (L.V. Steinhoff),  left, loads up a batch of boys into his pickup. Clarence Schade is on the right.
A double exposure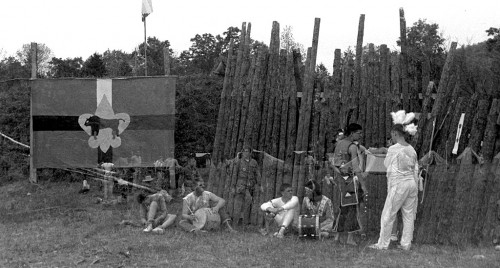 Something was wrong with this photo. A closer look disclosed that it was a double exposure: two photos taken on the same frame of film. That's pretty tough to do with most cameras because you cock the shutter for the next photo when you advance the film. About the only only way you can do it by accident is to load the film in the camera twice. (There's another way, but you REALLY have to want to do it.)
It dawned on me, then, that in 1963 I was still using a Kodak Pony 135 camera. I had to go searching for a manual on line to refresh my memory. As soon as I saw it, it all came flooding back.
It was designed for folks who didn't know much about photography, but it still required you to set your shutter speed, aperture and distance. On top of that, you had to remember to cock the shutter by pushing down on a lever on the front of the lens. After you had taken the photo, you had to turn a knob on the top of the camera to advance the film. If you forgot to do that and just cocked the shutter, you could take a double exposure like this one.
Scout Executive Paul Berkbigler

I wrote about Mr. Berkbigler earlier.
Photo Gallery
Click on any photo to make it larger, then click on the left or right side of the image to move through the gallery.