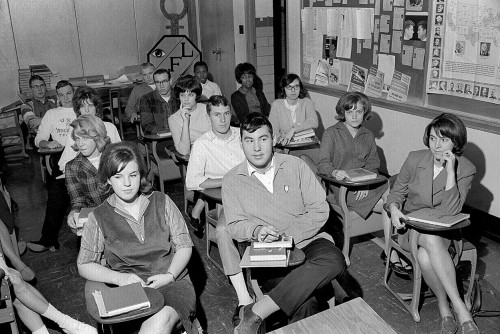 I gave these photos a file name of "Speech Class" because I saw the National Forensic League (NFL) logo in the back of the room. Then, I looked at the students, most of whom are in the Class of 1965, and didn't see a large number of debaters.
The bulletin board display, with its front pages from U.S. News & World Report and Newsweek got me thinking Current Events. (The facing portraits on the board look more like Calvin Chapman than JFK.) There are also lots of stories tacked up that may be Senior Spotlights from The Tiger.
Social Living Clue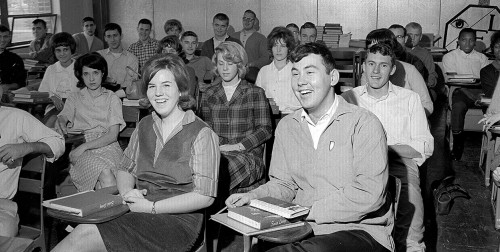 My thinking changed when I saw the textbooks on the desks of Cheri Huckstep and Paul Schwab. They say "Social Living." I can't remember, for the life of me, what that class was about. Was that another name for Civics?
Photo gallery
You should have fun putting names to faces. I recognize lots of folks, but I'm going to give you the opportunity to make guesses so I don't have to make corrections. Click on any photo to make it larger, then use your arrow keys to move through the gallery. (Check out the street scene out the window of the vertical shot with Lynn Latimore in it. I bet you can ID the businesses in the background.)