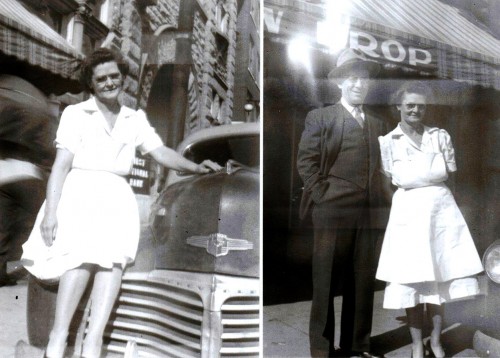 When I wrote about the Dew Drop Inn in Bloomsdale, I mentioned ones in nine other states. What I didn't know until contacted by Jeffry Lynn Boswell Hawk was that Cape had its own Dew Drop at 111 North Main Street. She was kind enough to share some photos of her grandparents and the interior of the store. Here is her account:
MY GRANDPARENTS (Homer and Madge Boswell) OWNED A SMALL CAFE CALLED "DEW-DROP IN" IN THE LATE 40'S. It was located next door to The (OLD) First National Bank on Main Street. It was in the building that recently housed Brown Shoe Store (which has now moved out on Broadridge) in Cape.
As a little girl of about 3-4 years of age, I spent a lot of time with my grandparents in their cafe. The Tot & Teen Shop was a couple doors north next to Osterloh's Book Store. I would run up there and see Miss Mercer, who would dress me in real cute little outfits and then tell me to "run back down and show your grandma how cute you look." Of course, my grandparents couldn't resist the outfits and I had many beautiful clothes as a little girl!
One day, I ran down the street in front of Hecht's where a fire hydrant was sticking out between Hecht's and the adjoining building. Curious, I stuck my hand in the hydrant to see what was in there and IT GOT STUCK on the swinging flap (like a Japanese finger lock). Anyway, the old night watchman, Sam Tucker, heard me hollering for my Grandma and helped me get out of the big trap and took me up to my Grandparents' DEW-DROP IN and told them what happened. Everyone knew everyone on Main Street and they all watched out for each other. Those were some wonderful days!
Inside the Dew Drop Cafe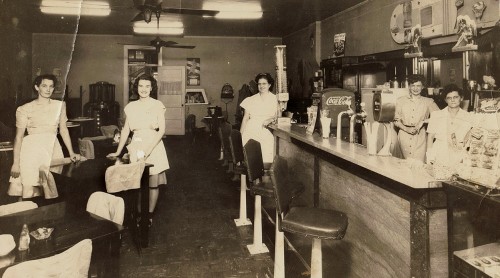 The Missourian had a business brief September 10, 1945: H.O. Boswell of Cape Girardeau has purchased the Dew Drop confectionery, 111 North Main Street, from Charles Barranco, who has operated the business on Main for 36 years. Mr. Barranco will retain the building.
Mr. and Mrs. Boswell will operate the business, and he said meals, as well as fountain service, will be featured. He and a son, Homer F. Boswell, for a year have operated the Plaza Cafe on Broadway, and Homer Boswell now has taken full charge of the Plaza. Mr. Barranco said he will retire from business, at least for the present.