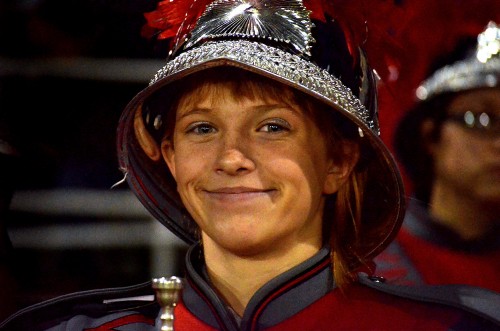 I did a post yesterday about a football game played in a concrete stadium built built by the depression-era WPA in Glouster, Ohio, in 1940.
The town of Glouster, where the Glouster Memorial Stadium is located, and Trimble, the home of the Tomcats who play there, are part of an Appalachia that has been dying since the coal mines closed down and the railroads pulled up their tracks: about 25 percent of the roughly 2,500 residents of Glouster and Trimble live below the poverty line. What they DO have is a pride in and a passion for their football team.
Win, but win right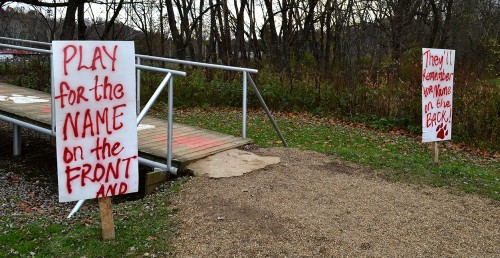 Homemade spirit signs encouraging the Tomcats peppered yards and were displayed by businesses.What I really liked was the way they emphasized sportsmanship, team and town.
Hundreds of towns people tried to keep the field dry with tarps a few days before the big playoff game. When it looked like they might have to move the game off the home field, they brought in a helicopter to blow it dry.
While I was editing the photos, I was listening on the Internet to police calls out of a Missouri community coming apart, while being moved by heartwarming pictures of a community coming together.
In case you missed it
Readership was, understandably, way down on Thanksgiving Day because you had more important things to do than read my ramblings. Still, I like these photos and this small town enough that I would encourage you to go back to yesterday's post to see something that says more about Thanksgiving than Black Friday mania.
My favorite photo of the evening was the smiling girl from the Symmes Valley Band.
One of the things that impressed me most was what the losing coach told his players after they were defeated 55 – 8. (You'll have to read the story to see what it was.)
Both teams showed a lot of class that Saturday night.